Virtualization giant VMware has signed a much-anticipated deal with the public cloud service leader Amazon Web Services, which gives both a more credible hybrid cloud strategy - by offering VMware's software defined data center (SDDC) on Amazon's cloud, as VMware Cloud on AWS.
The new service will be VMware's major public cloud offering, and it will eliminate the binary choice between the VMware environment and the AWS public cloud, the two companies' CEOs said at a San Francisco press conference. It will be the first VMware-supported implementation of VMware's to be sold on Amazon's cloud, and will be sold by VMware and not by AWS. Meanwhile, VMware will continue to support its VMware public cloud, and it also has deals with other cloud providers including IBM.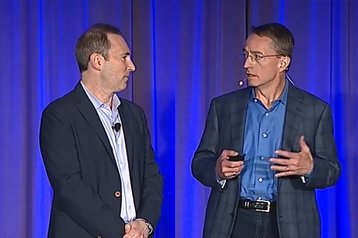 Bridging the gap 
"This is the primary public cloud solution delivered, sold and supported by VMware," said VMware CEO Pat Gelsinger, having described how the "jointly-architected" solution emerged to meet customers' requirements to extend their internal VMware installations onto the public cloud.
Despite efforts to support hybrid cloud, businesses have had to make a "binary decision", or else combine two distinct environmnents because VMware is not available in the Amazon cloud, AWS CEO Andy Jassy admitted: "Most of the big hybrid implementations today are built on top of AWS and enterprise data centers [which are overwhelmingly built on VMware].
"People want to leverage the investment they've made to manage their software on-prem," he said. "You want to use the same software in the public cloud."
That's quite a change in sentiment from Amazon, which has previously wanted to simply replace enterprise data centers. That's still the long-term goal, and Jassy clearly wants to make it easy for companies to move their resources into AWS, but the two CEOs agreed that on-premises IT would be around for "decades".
Western Digital and Sysco are among the customers in a Technology Preview of the service, which will become available more widely in 2017. Meanwhile, Gelsinger said that many customers had significant investments in its own public cloud offering vCloud Air, and this service will continue.
However, the announcement also forms part of a shift away from VMware providing public cloud, since its acquisition by Dell as part of the EMC merger. Earlier this year, VMware handed over a jointly-developed public sector cloud initiative to its service partner QTS.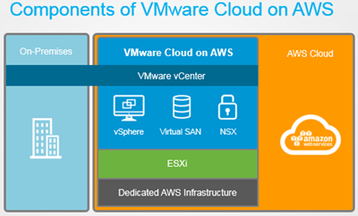 VMware on AWS hardware
The service runs directly on AWS' physical hardware, so VMware can run its virtualization stack without having to use nested virtualization, according to Amazon evangelist Jeff Bar on the AWS blog, which describes the service as: "a native, fully managed VMware environment on the AWS Cloud that can be accessed on an hourly, on-demand basis or in subscription form."
The service includes VMware's core technologies, as used in data centers: vSphere Hypervisor (ESXi), Virtual SAN (vSAN), and the NSX network virtualization platform, and the intention is to provide a seamless experience, between using these on premises and in the public cloud. 
This will allow IT departments to build into AWS without new training and software license investments, as Amazon promises this will not affect existing VMware licenses, agreements, and discounts, says Barr: "Everything that you and your team know about ESXi, vSAN, and NSX remain relevant and valuable. You will be able to manage your entire VMware environment (on-premises and AWS) using your existing copy of vCenter, along with tools and scripts that make use of the vCenter APIs." 
Enterprise applications running on Amazon's cloud will also get direct access to standard AWS services, including compute, storage, database, analytics, mobile, and IoT services, Barr promised: "Because your VMware applications will be running in the same data centers as the AWS services, you'll be able to benefit from fast, low-latency connectivity when you use these services to enhance or extend your applications. You'll also be able to take advantage of AWS migration tools such as AWS Database Migration Service, AWS Import/Export Snowball, and AWS Storage Gateway."
Users can live-migrate virtual machines onto AWS using VMware's vSphere vMotion, and can use AWS Direct Connect to link their data center to AWS. They can also consolidate their data centers, or open up new areas, using AWS.