Dell Technologies is considering a reverse-takeover by VMware, which would enable it to become a publicly traded company without having to pursue a more traditional initial public offering (IPO).
People familiar with the matter told CNBC that Dell is debating the move, which would see it being acquired by a business that it controls.
Ouroboros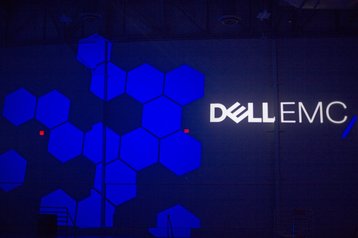 Dell went private in a $24.4 billion deal in 2013, then two years later raised $40bn in debt so that it could merge with EMC for $60bn in 2016, in what remains the largest technology deal ever.
Since then, the company has reportedly failed to meet cost saving and performance targets, and struggled in both the storage and PC markets. While net revenue increased from $41.6bn to $56.7bn in the nine months to November, operating losses also grew from $1.6bn to $3bn.
In an effort to cut down on its $52.2bn debt (on which it reportedly pays $2bn in interest annually) and provide a return for private equity firm Silverlake, which owns approximately 18 percent of the company, Dell has been exploring ways to return to public markets.
Last week, rumors emerged of Dell exploring an IPO, an option that the company could still pursue. But it is also contemplating a different route - selling itself to VMware, a publicly listed company. Dell owns 80 percent of VMware, acquired with its EMC merger.
The move would see VMware issue shares to Michael Dell and Silver Lake, which could then be sold on the public markets to raise funds. This would allow the business to avoid hurdles of a formal listing, and would likely take the crown for the largest technology deal ever - although, as a private company, the current valuation of Dell is not known.
While the company has yet to make a decision on the matter, the market reacted badly to the rumor - VMware shares fell some 11 percent, the sharpest decline in two years, after the news was made public.