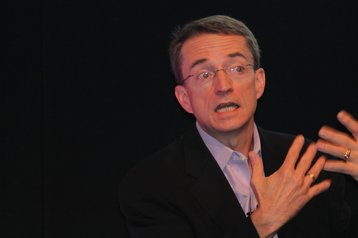 The announcement, which a visibly excited CEO Pat Gelsinger called "our biggest ever release of vSPhere", also updated the virtualization giant's marketing pitch, offering the whole thing under the banner of "One Cloud", alongside the somewhat-ambiguous "Brave New IT" slogan (have they read the book?) from 2014.
Alongside the expected vSphere and OpenStack announcements, VMware delivered a few surprises, including a new version of its VSAN virtual SAN product, a hybrid network service to bridge its vCLoud Air public cloud with customers' internal vSphere infrastructure, and a productized version of its Projhect Fargo, now known as Instant Clone.
One Cloud to rule them all?
"Disruption is the new norm," said Gelsinger, in a US briefing which was later rebroadcast for Europeans. "To navigate and thrive in the fact of this change, businesses must be decisive in the face of uncertainty."
Gelsinger described vSPhere 6 as the "foundation for hybrid cloud", with new features including the ability to extend the vMotion migration feature to long distances, so workloads can be ported over long distances between data centers.
The previously demonstrated Project Fargo is now a supported feature, under the name Instant Clone, allowing containers and virtual machines to be copied rapidly.
The bigt headline for Virtual SAN 6 (VSAN 6), the new virtual storage product, is its support of all-Flash architectures, where flash drives are used for both caching and storage. The performance is extended to seven million IOPS, and 64 nodes per cluster, while the previously promised Virtual Volumes feature, first mentioned in August 2014, allows it to support more storage arrays and has improved scalability and performance.
Finally, VMware is using its NSX network virtualization technology to allow hybrid clouds which bridge between the vCloud Air cloud public cloud service and customers' own in-house vSphere private clouds.