Virtus Data Centres is planning a new 300MW campus outside Berlin in Germany.
The company, part of STT GDC, this week announced the Wustermark Megacampus in Brandenberg, to the west of the capital city.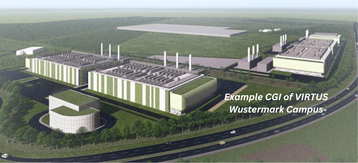 Located in the municipality of Wustermark, phase one of the campus will span 350,000 sqm (3.7 million sq ft) and go live by 2026. The company said the campus will offer 300MW of incoming power across two campus locations.
Christina Mertens, Virtus VP of business development, EMEA, said: "This ambitious undertaking is Virtus' second site in the Berlin Brandenburg region and follows hot on the heels of the announcement of our Berlin Marienpark Campus in May 2023."
Mertens continued: "It shows our commitment to sustainable innovation and dedication to meeting the evolving cloud and AI needs of our customers with another campus powered by cost-efficient renewable energy, capable of growing to a massive scale. As we take this step, we are proud to contribute to the vibrant data center landscape of Berlin Brandenburg and reinforce our position as an industry leader, continuing our journey as a catalyst for transformative change."
As part of the development, Virtus will make the waste heat of the campus available to the local municipality and support Wustermark's plans for a district heating distribution network.
Holger Schreiber, Mayor of Wustermark, said: "The Virtus Wustermark Campus is a shining example of the positive impact that future-oriented partnerships can have on our community. This particular engagement not only demonstrates technological innovation, but also shows the potential for sustainable economic growth. It brings significant opportunities for the high-tech industry, our community of Wustermark, and the entire Havelland region."
Virtus announced plans for a first Berlin campus in May 2023. The new data center, Virtus Berlin 1, will be built in Marienpark Berlin in the south of the city and is set to be operational in 2026. According to the company's website, the Marienpark campus will total 56MW across four buildings.
Virtus currently operates 11 data centers across four campuses in Greater London totaling 77,000 sqm (828,825 sq ft) and 178MW of power.
STT GDC picked up 49 percent of Virtus from Brockton Capital in June 2015 and made the company a wholly-owned subsidiary in 2017. Macquarie Asset Management recently took a 40 percent stake in the UK operator.
"We're proud to celebrate this milestone with our colleagues at Virtus Data Centres," STT GDC said on LinkedIn.
Virtus has previously said it has a 100MW pipeline of projects under consideration across the UK and Europe, with campuses planned in Italy, Spain, Poland, and elsewhere.
More in Construction & Site Selection