British colocation specialist Virtus has officially opened a massive data center in Hayes, a suburb of London close to Heathrow, to better serve the needs of customers based in the capital.
LONDON2 is a Tier III certified purpose-built facility that will eventually offer more than 6,000 square meters of technical space. Two out of six data halls are already awaiting tenants.
The data center is the first in London to deploy indirect evaporative cooling from local infrastructure vendor Excool. It stands on land owned by Virtus, which the company says gives it a unique opportunity to keep its prices as low as possible.
Open for business
Virtus was founded in 2008 and opened LONDON1 in 2011. By the end of the year, the company filled three quarters of space constructed during the first phase of the project, and acquired a stretch of land in Hayes as a potential site for future expansion.
In 2013, Virtus finished the second phase of LONDON1 and started building LONDON2. Once complete, the campus will offer 11.4MW of power derived entirely from low-carbon energy sources (nuclear and renewable).
Each data hall at the new facility supports power loads of up to 40kW per rack – something that will appeal to customers planning to run new, high density Dell PowerEdge FX or HP Moonshot servers.
The site enjoys access to 22 carriers and six fiber providers. Virtus itself has laid several miles of ducting and cable in the immediate vicinity of the data center – and according to product strategy director Matthew Larbey, this was made much easier by the fact the company owns the land that it stands on.
"If you go to Slough [the unofficial data center capital of the UK], you are effectively a tenant to SEGRO Estates, so all 22 data centers that are in Slough have one landlord. They have a cost base that, over time, they don't have control of," explained Larbey at the launch event.
"If you try to have an innovative business model, that's going to restrict you. Because we don't have that restriction, we have a lot more flexibility. That's why we can offer agile solutions, that's why we can be transparent, that's why there isn't the pressure on us to operate as we would have had to with a business model that was five or ten years old."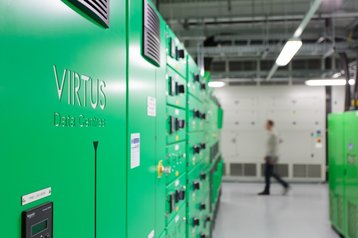 "Sometimes there's an advantage to be where other people aren't," added Virtus CEO Neil Cresswell. "We are almost exactly halfway between Docklands and Slough, in this 'Goldilocks zone' as we call it, where you are far enough for DR purposes but close enough for synchronous replication."
The facility is being fitted out in small increments – it only provides as much power, cooling and server space as is required by customers, ensuring PUE of less than 1.2 from day one. LONDON2 was also rated 'excellent' by BREEAM for its sustainability features, including solar panels and waste heat reuse for on-site offices.
The data center in Hayes is aimed at a wide variety of customers, from organizations in the financial sector to cloud and hosting providers and even Bitcoin 'mining' enthusiasts.
Flexible contracts can last anywhere between a day to a decade and can be scaled down as well as up – Virtus says that its aim is to combine the convenience of retail colocation with low pricing of wholesale services.
All of the racks are managed through the Virtus Intelligent Portal (VIP) based on iTRACS DCIM software, with customer hardware visible on a 3D model that's updated in real-time.
LONDON2 is the first data center in the capital to install systems made by Excool, which spray water on heat exchangers to cool the outdoor air before it enters the data center. Excool says this approach helps comfortably maintain internal temperatures of 24 ºC while it's 35 ºC outside.
Inviting the first LONDON2 tenants in September 2014 has allowed Virtus to quadruple of its customer base in 2014. The company is already planning the next two facilities, which are likely to be located on the edges of London.