The Vienna Scientific Cluster has launched a new supercomputer at the Vienna University of Technology (TU Wien) in Austria
The new VSC-5, first announced last year, the 4.3 petaflops system is equipped with 1,540 AMD EPYC Milan processors and 98,560 cores; 60 nodes are additionally each equipped with two NVIDIA A100 cards. The system was supplied by Megware, and was reportedly delayed due to supply chain issues.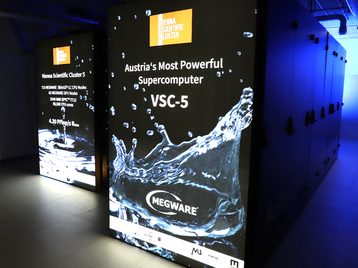 The Federal Ministry of Education, Science and Research is providing substantial funding for the large-scale project: "I am very pleased that Austria's most powerful supercomputer for science and research can begin operation with the VSC-5. These computing resources, which can be used by all researchers throughout Austria, will further accelerate scientific contributions in important areas such as climate change, medicine and even quantum research and ensure international competitiveness," says Minister Polaschek.
Based at at TU Wien, the VSC-5 mostly uses a direct hot water cooling system ColdCon and It operates at temperatures up to 50°C. The system ranked 301st in the most recent Top500 list and is billed as Austria's most powerful supercomputer.
VSC-5 is jointly operated by six Austrian universities: TU Wien, University of Vienna, University of Natural Resources and Life Sciences Vienna, Graz University of Technology, University of Innsbruck and Johannes Kepler University Linz.
VSC-5 is twice as fast as its predecessor, VSC-4 – a 37,920 core system with Intel Xeon Skylake CPUs and 2.7 Linpack petaflops of performance – with both systems consuming almost the same amount of energy. Ooriginally due to replace VSC-4, both systems will now be operated in parallel.