US service provider Viawest has opened of its Brookwood data center, Hillsboro - its third in Oregon.
The highly redundant data center, which has already secured DreamHost as a main tenant, combines 138,000 square feet of raised floor space within a high-density configuration which supports 700+ watts per square foot.
The Brookwood data center offers business customers access to a full suite of hybrid IT and infrastructure solutions, including cloud, colocation, compliance and security solutions. ViaWest promises 100 percent uptime for the facility.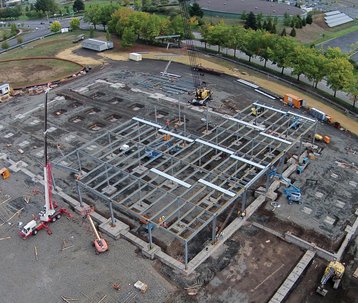 Why go to Oregon?
Nancy Phillips, president and CEO of ViaWest said: "For more than 16 years, ViaWest has grown significantly by offering the highest-quality data center services in the industry, and we are proud to now have 29 data centers supporting nearly 1,500 customers.
"It is no coincidence that three of our 29 data centers are located in Oregon. The fact that Oregon does not have a state sales tax and offers attractive tax incentive programs helps draw customers from neighboring states like California and Washington who are looking for more affordable data center alternatives."
Cheap power attracted Viawest to Oregon, which is also the third renewable energy producing state in the US. Viawest designed the Brookwood data center with redundant medium-voltage power feeds. These are backed up by an on-site generator plant.
Viawest is in the Portland General Electric Clean Wind program, which guarantees a reliable and renewable source of clean energy for businesses hungry for energy to support their IT infrastructures. 
The Brookwood data center features physical security monitoring and high resolution video surveillance to provide customers with peace of mind that their information is in a highly secure facility and available 24 hours a day.
ViaWest designed Brookwood to meet multiple compliance regulations including SSAE 16 and ISAE 3402 Service Organization Control (SOC) 1 Type II, SOC 2 Type II and SOC 3 reports.