Icelandic data center provider Verne Global is expanding beyond its wholesale offering with the introduction of a cloud powered high-performance computing (HPC) as-a-service platform, hpcDirect.
The clusters are built with Intel's Xeon Skylake processors, which can be provisioned on any scale and incrementally increased over time.
Verne Global, launched five years ago, offers colocation and wholesale data center services at its 44 acre data center campus in a former NATO command center in Keflavík, Iceland.
The country abounds with hydroelectric power, which consequentially comes at a low cost. So far, this has allowed it to attract colocation and bare metal customers from distant regions, and it hopes the new cloud service will allow for more of this.  
Scalable, on-demand compute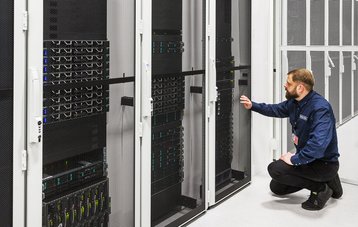 Additionally, the company thinks that the offering will allow it to capitalize on the growth in demand for HPC by giving customers the flexibility of purchasing it as-a-service.
Dominic Ward, the company's managing director said: "With hpcDirect, we take the complexity and capital costs out of scaling HPC and bring greater accessibility and more agility in terms of how IT architects plan and schedule their workloads."
Ward told Data Center Frontier: "We've moved to the point where we're providing higher value-add services. One thing that's consistent is that we've seen rapid growth of HPC, and we absolutely see this continuing. It's really driven by the need to focus on what these companies do best. There is an ability to move from a capital expenditure model to an operating as-a-service model.This lets our customers manage their needs on a much more flexible basis: they can augment their capabilities as they need, when they need it and when they want it. This is a really big shift."
He added: "One of the reasons we see increased demand is that the next round of innovation is occurring within applications that reside within high performance computing," said Cantrell. "It's all about computation and resources. We're making this streamlined to provide people with access to these resources."
However, Verne Global is not the first to explore the HPCaaS model, as earlier this year, Cray teamed up with Markley Group to offer supercomputing as-a-service, relying on Cray's Urika-GX, following which the HPC company entered a partnership with Microsoft, and together introduced a Cray supercomputer-as-a-cloud-service.
Despite this, the company believes it will differentiate itself by targeting users from the manufacturing industry (specifically the automotive sector), life science research and the financial services.