Verne Global has added a nother network provider to its data center in Iceland, with a point of presence (PoP) from Level 3.
The new Internet Protocol (IP) PoP will give more communications options to customers who choose to locate in Iceland. They can now connect to 40 new countries through the Level 3 connection, according to Verne's press release. The Level 3 PoP joins existing network options including BT and Colt, which also provided the modular structure for the initial data center build at Verne's site.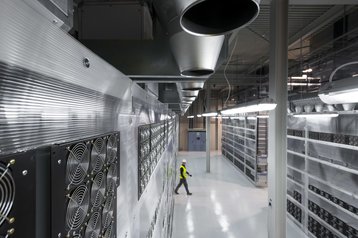 Cold storage
Verne's carrier-neutral campus is in Keflavik, a former NATO base near Reykyavik in Iceland, and offers 100 percent renewable energy from Iceland's grid which is supplied from hydroelectric and geothermal sources. 
The lure of cheap and renewable energy can only go partway luring customers to a geographically remote site. Another part of the picture is to offer more network connections, and Verne now has a convincing array of them. 
Level 3 previously offered content delivery network (CDN) services via Reykjavik, but did not have an existing PoP in Iceland before this agreement to put one into Verne's site.
Customers can now choose IP, CDN, virtual private network (VPN) or cloud services over the Level 3 conneciton, potentially providing multiple redundant network routes for reliability. 
"Iceland is an ideal location for businesses to house their data, as it is the central point for a wide variety of key locations," said Dominic Ward, vice president of corporate development at Verne Global.
"Enterprises are increasingly dependent on global connectivity to support their growth objectives, and having the right infrastructure in place to support this can make a significant difference to organisations' bottom line," said Andrew Crouch, regional president, EMEA at, Level 3.