Louisiana-based cloud and disaster recovery specialist Venyu has begun construction of a 67,000 square feet data center in Jackson, Mississippi.
The facility is located within the former McRae's Department Store – a building of historic significance to the area.
Venyu is spending around $35 million on the project. Its first customer at the new site is the University of Mississippi Medical Center (UMMC), which will use the facility to host statewide telehealth services.
"Venyu is a company predicated on making a positive community impact, whether it's leveraging the latest power-saving initiatives or creating new jobs," said Scott Thompson, president of Venyu.
"Our new Jackson, Mississippi data center is the perfect location to complement our two existing facilities and further help companies take advantage of cloud and disaster recovery data services."
Concrete and tarmac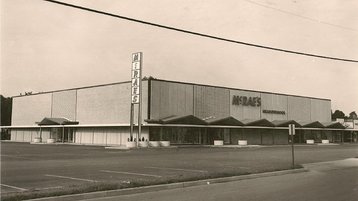 Venyu is headquartered in Baton Rouge and already owns three data centers: two on campus in Baton Rouge and one in Bossier City. The new data center in Jackson marks the first time the company is expanding its physical infrastructure beyond state borders.
The facility will be located at the McRae's Department Store – a building listed on the US National Register of Historic Places, since it was Jackson's first suburban full-service department store, opened in 1955.
The data center is being built to the same specifications as Venyu's second Baton Rouge facility (BTR2) which opened in spring 2014. The company says this involves the use of the mezzanine level for placement of HVAC units for cooling.
Once complete, the site will offer space for about 360 racks supported by 1.8MW of power and backed by four 1MW generators. It will be serviced by a minimum of three communication providers.
Among other things, the Jackson data center will host a Center for Telehealth – UMMC's effort to provide medical services to patients without them having to travel.
"The telehealth program is a model of success in other states seeking to expand their reach into rural underserved areas. We are proud to be a part of this innovative service that uses technology to deliver health care services virtually anywhere," added Thompson.