Vapor IO, whose "hyper-collapsed" data center design is based around cylindrical chambers, has teamed up with fuel-cell provider Bloom Energy to offer low emission data centers. 
The two vendors both take a modular approach that is different from the traditional players in their respective fields. Vapor IO offers an open source hardware approach based on wedge shaped racks built in circular "vapor chambers" (above) that improve density and cooling by convection currents. Bloom provides fuel cells (below) which make "clean" energy from hydrogen or hydrocarbons. Together they will build a reference model that couples the two together in a modular data center design.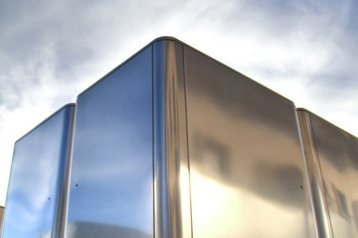 Business is blooming?
While power distribution is traditionally a separate system from the IT within racks, the two companies will work on ways to integrate them more closely.
Vapor's hardware is designed around an open source management interface called the open data center runtime environment (OpenDCRE) which is effectively an open source DCIM platform, published by the Open Compute Foundation.
Vapor will give Bloom access to CORE, the commercially developed intelligence layer it offers on top of OpenDCRE so the power generated from the Bloom Energy Servers can be routed more intelligently.
Each Vapor chamber has six racks and draws up to 150kW. Bloom Energy Servers are available in various configurations up to 200kW, which is enough to power multiple chambers at more normal densities.
Vapor emerged from stealth in March 2015, while Bloom has been around for 15 years, during which time it has had $1 billion of investment to commercialise fuel cells originally designed for Nasa and intended for space exploration.
"At Vapor IO, we are dedicated to revamping today's data centers and leading the industry towards a more modern, sustainable and energy efficient IT infrastructure," said a statement form Cole Crawford, co-founder and CEO of Vapor IO, and former director of the Open Compute Foundation. 
"Our goal of partnering with Vapor IO to better enable companies around the globe to adopt green data centers," said Peter Gross, vice president of mission critical systems at Bloom Energy.