West Coast wholesale colo provider Vantage Data Centers has been bought by a consortium of three investors. 
Infrastructure company Digital Bridge bought Vantage from its owners, Silver Lake, as predicted in January 2017, backed by two pension funds: Public Sector Pension Investment Board (PSP) and TIAA Investments. Vantage is already building on the parking lot in its campus in Santa Clara, Silicon Valley (see below), and the new investment aims to provide money for even more expansion. The purchase price was not revealed, but the reports from January suggested the value could be around $1 billion.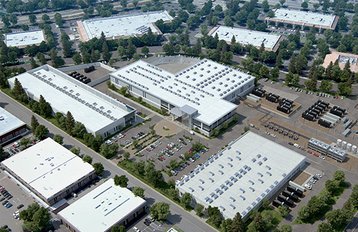 Add Vantage 
"Vantage will be the wholesale colocation brand of Digital Bridge," Vantage CEO Sureel Choksi told DCD. Digital Bridge already owns a data center company, but Dallas-based DataBank, which it bought in July 2016 is focused differently, he explained.
Vantage is a wholesale provider in Tier 1 markets, whose customers normally use 1MW or more at a time, filling a suite or a whole floor, while DataBank deals with smaller customers, said Choksi. 
"DataBank is a retail-focused colocation and interconnection managed services provider, operating largely in Tier 2 markets," he said. "DataBank's customer base typically deploys small footprint in retail colocation space."
Despite this, there will be opportunities for both companies in the Digital Bridge ecosystem, he said: "DataBank's large enterprise customers may have a need for whoolesale space in one of Vantages markets, or else Vantage's large customers may have smaller needs in a Tier 2 market."
Vantage has four data centers on its flagship campus in Santa Clara, Silicon Valley, with a total of 51MW, and extensive building plans, which will continue unaffected by the acquisition, said Choksi.
Vantage is building two more facilities on its Santa Clara campus, including a four story building, which will take to a potential capacity of 93MW. The company also owns a campus in Quincy Washington which contains a 6MW data center and room for four others, It has plans for a second campus in Santa Clara, two miles from its headquarters, which will have substations for up to 150MW. 
"There will be no change to our current development plans," he said. "We will continue to build out as fast as we can due to customer demand. This acquisition gives us the opportunity to expand into new markets, given the deep pockets of three investors, who have approximately a trillion dollars under management."
Choksi will remain in his post, along with the current management team, while former Digital Realty CEO Mike Foust, an advisor to Digital Bridge, will join the Vantage board of directors, along with Raul Martynek of Digital Bridge.