Telekom Malaysia subsidiary VADS Berhad (VADS) has taken the wraps off what it bills as Malaysia's first cloud exchange, and revealed more of its plan for two core data centers as an anchor for its regional data and content exchange hub.
At the heart of the VADS Marketplace would be its integrated customer experience, allowing the platform to serve as a one-stop center for cloud solutions from both established providers and local independent software vendors (ISV).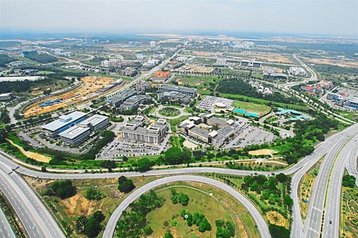 Two purpose-built hubs
VADS is a wholly owned subsidiary of Telekom Malaysia (TM) Group, and the cloud offering was touted as a strategic driver for the latter's digital transformation journey. VADS says there are more than 80 cloud-hosted business solution packages already available, spanning categories such as business productivity, collaboration, e-commerce, security, mobility, storage, backup and various server offerings.
Notably, VADS Marketplace will be anchored by two new purpose-built data centers, the upcoming Iskandar Puteri Core Data Center (formally known as Nusajaya Data Center) located in the Malaysia sate of Johor, and a second planned data center at Cyberjaya, Selangor. The Iskandar Puteri Core Data Center (IPDC) is currently slated to open its doors in Q1 next year.
Though VADS already operates more than ten data centers within Malaysia, it has identified the two data centers as part of a "Twin Core" strategy of highly robust data centers built to international standards. VADS told DCD that the data centers will be Uptime Tier 3 Design and Constructed certified, and that the IPDC has been accessed to comply with the threat and vulnerability risk assessment (TVRA) guidelines of the Monetary Authority of Singapore (MAS)
"The Twin Core data centers are built to stringent security standards and globally recognized industry and green certification," said Massimo Migliuolo, CEO of VADS. "They will house TM's internet gateway; forming the regional data, content and information exchange hub for VADS Cloud Exchange and other global cloud players."
"The operation of a resilient infrastructure, a robust cloud platform and a marketplace rich with partners' solutions will help VADS to realize its aspiration to become a major hybrid cloud and data center provider for the Southeast Asia region and beyond," he said.