The US, Singapore and Japan are the best locations for building data centers, according to a new list published by design and building consultant Arcadis.
Sweden and Norway are the next most favorable places to build, according to Arcadis' Data Center Location Index 2021, which takes into account factors including the cost and security of power supplies, and the ease of getting construction permits, as well as cybersecurity and the local market for digital services, in order to rank 50 countries.
For more breaking data center news, features, and opinions, be sure to subscribe to DCD's newsletter
Market leaders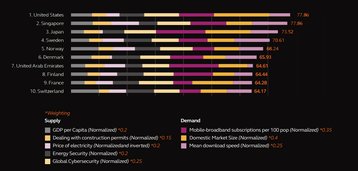 "This index is meant to provide a starting point to help clients think through the decision criteria influencing the optimal location," said Natalie Sauber, Arcadis UK Market Intelligence Lead. The report says: "In principle, digital infrastructure can be built nearly anywhere and used to serve customers anywhere in the world. But choosing a good location for a new data center is critical in terms of optimizing return on investment."
The report takes eight criteria: GDP per capita, the ease of dealing with construction permits, price of electricity, energy security, cybersecurity, domestic market size, the number of mobile broadband subscriptions and mean download speed. Arcadis decided which factors were most important and combined them so supply and demand factors got equal weighting. This year's report takes climate change and the effects of the Covid-19 pandemic into account, as well as the global shift towards using hyperscale data centers.
The list is very different from a similar report issued by Cushman & Wakefield in January. While Arcadis compared whole nations, Cushman looked at 48 markets, and broke the US down into multiple locations. The real estate firm gave six of its top ten locations to individual US hubs, and valued Australia higher than Arcadis: Sydney comes in at number three for Cushman & Wakefield, and the whole of Australia languishes at number 13 for Arcadis. Other rankings vary considerably: Arcadis places the UK at number 12, while Cushman put London at number seven in its list.
Arcadis says the US has reliable electricity, with increasing amounts of renewable supplies, but warns that the cost of electricity can be a "challenge," advising that developers can choose "locations that are suitable for free cooling techniques."
Singapore's position (number two for Arcadis, and number five for Cushman) is based on high demand, which continues despite the shortage of power and land in the country - and the fact that it currently has a little-publicized moratorium on new data center projects.
Arcadis ranks Nordic countries highly, putting Sweden, Norway, and Denmark at four, five, and six, and Finland at number eight, noting their connectivity, high GDP, and reliable supplies of renewable energy. Cushman wasn't so impressed, marking Stockholm as a market to watch in the future.
The United Arab Emirates, France, and Switzerland fill out the rest of Aradis' top ten countries. China, the Netherlands, Germany, Ireland, and India feature in Arcadis' list of markets to watch.