Consolidating a sprawling mass of data centers is no easy task, and the US Army is struggling.
The 2010 Federal Data Center Consolidation Initiative, and subsequent 2016 Data Center Optimization Initiative, ordered the Army to shut down 60 percent of its nearly 1,200 data centers by fiscal 2018, but it looks unlikely to hit that deadline. In an effort to get things back on track, Secretary Eric Fanning has unveiled a new plan, directly listing data centers that should be closed.
War on waste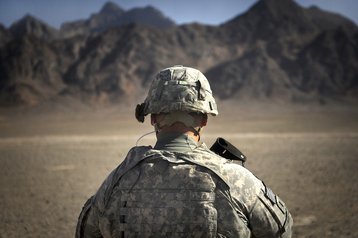 "Progress in system and application virtualization and rationalization has been slow, and our data center closure and consolidation efforts have come to a virtual standstill," Fanning wrote in a document adressed to Army command, spotted by Fedscoop.
"Every IT system and application presents a potential attack surface to those wishing to affect our readiness to respond when required."
We can no longer afford the luxury of unconstrained IT expenses nor accept the risk to the Army and the Nation posed by cyber threats directed against Army capabilities."
Fanning said that of the $8.3 billion required to fund Army IT services, much was spent to maintain unnecessary and unsafe systems.
The Secretary of the Army added: "The end state includes all enterprise systems and applications being approved, planned, resourced, and migrated to enterprise hosting environments no later than 30 September 2018, contingent upon the availability of enterprise hosting environments."
He continued: "Reducing the Army's data center inventory will enable the Army to make the follow-on transition to its long-term end state of four continental United States (CONUS) Army Enterprise Data Centers (AEDCs) and six outside the continental United States (OCONUS) AEDCs.
"This facilitates implementation of the Army Private Cloud - Enterprise (APC-E) in the 2025 timeframe and is consistent with the Army's Cloud Computing Strategy (reference g), which leverages approved DoD, Federal, and commercial cloud service providers."
The Army is currently conducting a cloud trial, and has grand digital plans for the future, despite its current consolidation troubles.
Fanning also set a deadline for the Army adoption of the Microsoft Windows 10 Secure Host Baseline - originally meant to happen last year, it must now happen by the end of the month.
Most federal agencies have faced similar modernization and consolidation issues, but the Department of Defense as a whole has found the job particularly challenging. To increase the pace of the initiative, last year the Pentagon announced plans for a special data center closure team. 
In the document, Fanning listed hundreds of facilities that would soon be closed, as well the schedule he hoped to implement.
But Fanning's tenure is set to come to an end - after having the job for less than a year due to his confirmation being delayed by Senate Republicans, the Secretary will be replaced by the incoming Trump administration. His position is likely to be taken by billionaire Vincent Viola.
Viola made his fortune with Virtu Financial, an electronic trading firm that he founded.