The Uptime Institute has launched a certification program for pre-fabricated and modular data centers designed for rapid deployment at the edge of the network.
Compass Datacenters, Schneider Electric and Huawei have all gained certificates under the Tier-Ready scheme, which lets manufacturers validate the designs of prefabricated data center modules so they can be marketed to nervous-but-edge-hungry customers. Uptime's existing Tier scheme certifies the reliability of complete designs or fully-built facilities.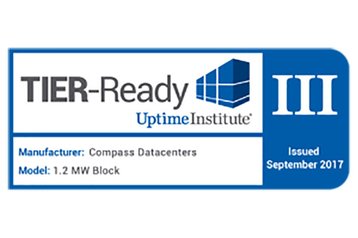 Adapting to prefabs
As small edge facilities have sprung up, there has been no quick way to certify their reliability, so Uptime is offering a way to pre-certify the components of a prefab design. 
In principle, customers will buy modular systems with a Tier-Ready certification, and then get the installed system certified to the Tier system. It normally takes a week to certify a data center, but it could be done much more quickly for one that is built with Tier-Ready components. 
"Prefabricated and modular data centers have been on a growth trajectory for the past several years as organizations strive to bring business services closer to their constituents," said Uptime president Lee Kirby in a statement. "As distributed technologies such as IoT and Edge-computing become commonplace, these services must be delivered without incurring the traditional risk associated with remote infrastructures."
The Tier-Ready scheme will cover a wide range of systems, from small modular and container-based systems weighing in at as little as 30kW, up to large prefabricated systems from vendors such as Compass. Smaller designs will most likely have a lower Tier rating, as edge facilities normally achieve reliability through remote backups.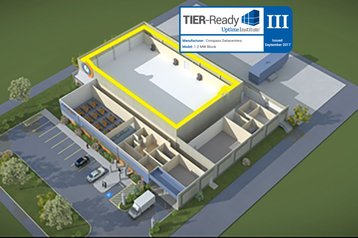 Compass has already got a Tier III Tier-Ready certificate for its standard design for 1.2MW blocks (pictured), while Schneider and Huawei are in the process of certifying smaller designs, reportedly operating at 90kW and 230kW respectively. Other vendors are in the pipeline,  according to Uptime. 
"One of the things about the Tier-Ready scheme is it gives us a very clean ability to give the client certainty early on in our process. They know that our infrastructure has been fully vetted," said Chris Crosby, CEO of Compass. 
"Modular data center solutions for remote and distributed infrastructure are an essential component of delivering modern applications and, in many cases, are deployed in unique operating conditions," said Kevin Brown, chief technology officer at Schneider Electric.  "This program provides customers with a streamlined process to benchmark and validate the resiliency of their architecture."
Huawei's general manager, data center facility business, Bob He emphasized the convenience for customers dealing with distributed facilities: "By working with Uptime Institute to review our modular solutions, our customers can be more efficiently certified for their data centers and distribute their computing, without risk or the need to give up any expected performance and resiliency because they can be more efficiently certified for that location."