The Uptime Institute has awarded American data center operator Data Shelter a Tier IV Design certificate for its sole project, a planned former-nuclear-bunker-turned-data-center of the same name.
Data Shelter's colocation facility in Fort Pierce, Florida, has a planned completion date of spring 2018. Its Tier IV rating means that a data center has expected availability of 99.995 percent.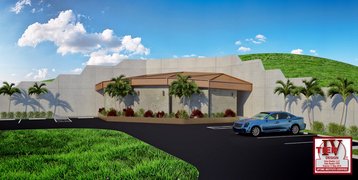 Gimme Uptime
"With downtime incidents on the rise, demand is rapidly growing for data centers at this level and we are proud to be one of just a few certified commercial Tier IV offerings in North America," Mark Oxley, CTO of Data Shelter, said.
"Our facility's state-of-the-art fire prevention system and other enhanced capabilities, position Data Shelter at the forefront of the hardened data center industry. We look forward to serving cloud providers, government entities, financial institutions, airlines and other businesses that have experienced the limitations of a lesser facility."
Keith Klesner, SVP of the Uptime Institute, added: "Data Shelter worked diligently to successfully complete our demanding architectural, mechanical and electrical design requirements in preparation for the build out of their first Tier IV data center, an important first step toward Tier Certification of Constructed Facility."
The 17,000 square foot (1,579 sq m) data center was originally an AT&T-built Cold War era nuclear bomb shelter. First opened in 1964, it was part of the AUTOVON network - a worldwide American military telephone system designed in case of all-out war.
The facility was constructed with double layer steel-reinforced concrete, built on top of a nine foot thick blast slab. It has two exterior entrances with armored steel blast doors. 
Features include Chemical, Biological, Radiological, Nuclear (CBRN) emergency air filtration, FEMA P320 safe room standards for Category 5 hurricane and EF5 tornado resiliency and planned FISMA/FEDRAMP, SOC 2, PCI-DDS and HIPAA compliance.