The University of North Texas has turned to cluster and cloud infrastructure automation software company Bright Computing for its high performance computing system.
The academic body has integrated Bright Cluster Manager into its HPC environment, using a 350-node cluster comprised of both new and legacy hardware.
Shine bright like a cluster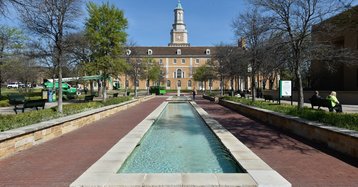 The heterogeneous cluster contains four different variations of Dell PowerEdge compute nodes - C6320 servers with two 2.4GHz Intel Xeon E5-2680 v4 fourteen-core processors, R420 servers with two 2.1GHz Intel Xeon E5-2450 eight-core processors, R720 servers with four 2.4GHz Intel Xeon E5-4640 eight-core processors, and R730 servers with two 2.4GHz Intel Xeon E5-2680 v4 fourteen-core processors and two Nvidia Tesla K80 GPUS (4,992 GPU cores/card).
"We are pleased that our solutions help support the researchers' wide variety of work done in physics, chemistry, and engineering," Bill Wagner, Bright Computing's CEO, said.
"We look forward to continuing to help UNT meet their cluster demands and research goals by simplifying their cluster monitoring and management so they can make groundbreaking discoveries."
While the news was announced today, the cluster manager has been operational at UNT for the past seven months, and can now manage about 200 more machines.
The cluster will be used for various research projects, including UNT's contract with the US Department of Defense to research how to make flying safer.