The UK's Independent Television News (ITN) is moving its workflows to the cloud with Amazon Web Services (AWS).
The broadcaster, which provides news programs across ITV, Channel 4, and Channel 5, has announced its intention to ditch its on-premise data center.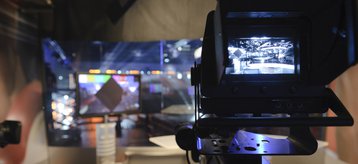 Nick Moores, ITN cloud and software development manager, said: "Working with a news organization, we want Internet-based consumers to be able to pick up on what we're putting out there as quickly as possible, which isn't always straightforward with on-premises media processing pipelines.
"As our equipment began showing signs of aging, we seized the opportunity to pivot and take advantage of the efficiency AWS could offer. Now, that we've seen what's possible, there's no going back."
The company currently houses an on-premise data center in London, likely at its 200 Gray's Inn Road headquarters, where it houses three studios and much of the broadcaster's post-production equipment.
"Reducing our physical footprint in London to ensure more sustainable operations is a priority, and with cloud computing, we can work toward that while also breaking free from traditional, expensive circuits that forge links between sites," said Moore. "With AWS, we can create an alternate, more cost-efficient path between sites with cloud computing."
The broadcaster is also working with AWS on the GVM platform, which will enable remote and decentralized production applications such as cloud-based transcoding and editing.
Broadcasting and post-production are naturally 'spiky' sectors, with sudden increases in workload. Moving workloads to the cloud provides the increased flexibility that is needed by these companies.
"Increasingly, we're seeing customers ask for rapid turnaround event support, and with AWS, we're able to deliver," added Moores.
The Covid pandemic demonstrated to many broadcast houses the need to be able to remotely access the latest version of the footage. As a result, many companies began exploring the possibilities of cloud computing.
With many of the UK's major broadcast houses located in Central London, the cost of hosting on-premise when staff members were not able to go into the office quickly raised some red flags. By moving workloads to the cloud, ITN will be able to decrease its required footage in the capital city and thereby reduce the cost of rent.
ITN is reportedly also in conversation with transmission partners in order to explore low-latency formats to further improve their ability to remotely access content.
ITN has had a relationship with AWS-based Sony Ci's cloud platform since 2014.
This latest announcement comes just days after other UK broadcasters Channel 4 and ITV announced they had signed a multi-million-pound contract with BT to move processing to the company's cloud-based Vena smart broadcast network.