The Ukrainian government plans to build a ground station for SpaceX's Starlink service after its war with Russia is over.
In a Telegram post, the Ministry of Digital Transformation said it was working with Ookla to monitor the speed and quality of the Internet in Ukraine in order to find out which regions might be suffering communications issues.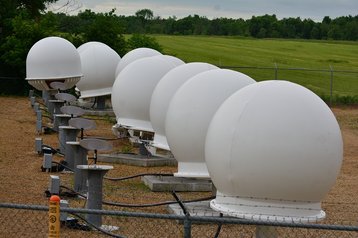 "It is clear that the quality of the Internet from Starlink in eastern Ukraine is worse than in the west. This can be explained by the fact that Ukraine does not have its own Starlink ground station. The nearest stations are in Poland, Lithuania, and Turkey," it said in the post.
"So after the victory, together with Elon Musk, we plan to build our own Starlink ground station to improve the quality of satellite Internet for all Ukrainians."
After requesting help from SpaceX CEO Elon Musk, the billionaire has delivered a large number of Starlink terminals to Ukraine to provide satellite communications in the country. Musk has claimed Starlink is the only non-Russian communications system still working in some parts of Ukraine and has made a number of updates to the terminals to aid their use in the country.
On the same day that Russia invaded Ukraine, Viasat began suffering issues with its KA-SAT network. The company has since said it was hit by a "multifaceted and deliberate cyberattack" targeting the European-focused service.
In other ground station news, Northrop Grumman has won a new ground station contract from the US Navy. The $99.6 million Relay Ground Station Asia contract will see the defense firm develop terminals to link legacy space vehicles in the geosynchronous orbit with the Next Generation Space Based Infrared Systems Ground System of the Space System Command. The work will include hardware and software design, development, testing, and integration and be conducted in Boulder, Colorado, and Guam through March 2027.
KSAT has finalized and commissioned dedicated antennas for Satellogic; K-SAT has deployed four dedicated antennas for Satellogic at the Troll Ground Station in Antarctica and Svalbard Ground Station in Norway.
Finnish space startup NorthBase Oy has finalized funding and partnership negotiations and is commencing with its plan to open a commercial satellite ground station known as NorthBase-2 in Finnish Lapland. Planned to be in operation by August 2022, the ground station will support downlink on S and X bands and uplink on S band.
"We have been working on this plan for more than two years, so it is great to finally get to action", said NorthBase chairman Dr. Tommi Rasila. "Our station will open up a totally new business area for Finland, making us a new country to serve the international space community with premium satellite ground station services."
Ground station as a service provider NorthBase is working together with Contec, a South-Korean company operating antennas in several countries; the two companies are planning to aggregate their capacity. NorthBase-1 is being built in Tampere, Finland for UHF and VHF bands with an option for S-band, targeted for LEOP phase operation and smaller downlink needs.