The UK Space Agency has awarded more than £4 million ($5.65m) to nano-satellite and data analytics company Spire Global for research projects, including demonstration of parallel supercomputing in space.
The funding was announced by Lord Henley, Parliamentary Under-Secretary of State at the Department for Business, Energy and Industrial Strategy, on a visit to Spire's offices in Glasgow.
"We're looking forward to demonstrating our end-to-end service and infrastructure on this series of validation missions," Theresa Condor, Spire's EVP of Corporate Development, said.
"'Space as a Service' means going from mission technical architecture to customer data/service verification, along with the ongoing development of critical enabling technologies."
The skies above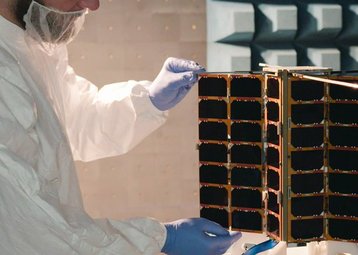 "Spire Global is at the cutting edge of technology, using satellite data to track ships, planes and weather in some of the world's most remote regions," UK Government Minister for Scotland, Lord Duncan, said.
"They're also an important employer in Glasgow, investing in the area and recognizing the talent of Scotland's world class engineers and scientists. We know that the space industry is important to Scotland's economy and this UK Government funding will help companies like Spire stay at the forefront of this field."
In addition to parallel supercomputing in space, Spire will explore using the Global Navigation Satellite System (GNSS) for weather applications. Both initiatives are part of the European Space Agency's Advanced Research in Telecommunications Satellites (ARTES) program, of which the UK is the largest contributor.
However, while government officials in Scotland hailed this news as part of a broader push to grow the UK's share of the global space market to 10 percent by 2030, the country's decision to leave the European Union has already cost it some space business - including in the data center industry.
Late last month, the European GNSS Program Committee voted "by a large majority" in favor of moving its data center from England to Spain. The facility, a backup for the main site in Paris, France, would house data from the Galileo satellite program, used by government defense programs as well as civilian agencies. Non-EU member countries are excluded from participating in security aspects of the Galileo program.
"Given the overriding importance for the Galileo program of maintaining the business continuity of the backup site, it is necessary that the UK  backup site … is transferred to a location in the EU27," a spokesperson told Politico.
Spire Global opened its European headquarters in November 2017. The Californian firm located its new HQ in Luxembourg.