The UK government is building a £900 million ($1.1bn) supercomputer which will also be used for AI research at the University of Bristol.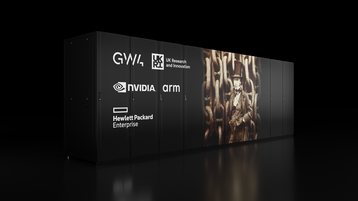 Set at the National Composites Centre in Bristol, Isambard-AI will be used by the UKRI Centre for Doctoral Training in Interactive Artificial Intelligence, among others.
The University will also be hosting the AI Research Resource, which is being funded by the government's AI investment announced in March 2023, along with Isambard-3.
The Department for Science, Innovation and Technology has not released details about the HPC's specifications but said in the announcement that the cluster "will be made up of thousands of state-of-the-art graphics processing units" and "will be able to train the large language models that are at the forefront of AI research and development today."
In addition, the government has said the supercomputer will be "one of the most powerful in Europe" and will take the top spot for the UK. The country's current most powerful supercomputer is the Archer2 which has almost 20 petaflops of computing capability.
Announced in May 2023, Isambard-3 is set to feature 384 Nvidia Grace CPU Superchips, for 2.7 petaflops of performance - but that has now been upgraded.
Science, Innovation, and Technology Secretary Michelle Donelan said: "We are backing the future of British innovation, investing in a world-leading AI Research Resource in Bristol that will catalyze scientific discovery and keep the UK at the forefront of AI development.
"The Isambard-AI cluster will be one of the most powerful supercomputers in Europe, and will help industry experts and researchers harness the game-changing potential of AI, including through the mission-critical work of our Frontier AI Taskforce."
In August, the UK government announced plans to spend up to $126.3m on AI chips. The country will host the AI Safety Summit in November which will bring together countries, technology organizations, and academics to discuss the risks of the most powerful AI systems.