Hewlett Packard Enterprise (HPE) has signed a Memorandum of Understanding (MoU) with the Crown Commercial Service (CCS) to provide UK public services with its GreenLake solutions.
The MoU will see the CCS using HPE GreenLake Edge-to-cloud services including compute, storage, networking, and cloud solutions. It is hoped to help the UK's public services meet sustainability targets. The value of the deal was not stated.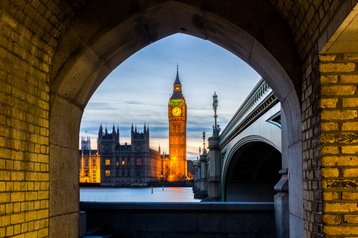 Philip Orumwense CBE, commercial director and chief technology procurement officer at CCS, said: "CCS has renewed and extended our relationship with HPE through this updated Memorandum of Understanding which will help our customers accelerate their IT modernization, achieve sustainability and utilize systems that harness the power of data to improve services for citizens.
"This MoU extends to cover all areas of HPE's portfolio including new key areas such as HPE's pay-as-you-go GreenLake platform - making it easier for all public sector bodies, no matter how big or small, to get value for money."
The UK government implemented a 'cloud first' strategy in 2013, which has since seen its public sector migrating its IT to the cloud.
As DCD previously reported, the Government announced a new net-zero strategy that could see even more pressure put on public services to accelerate their migrations.
Public sector companies can currently purchase cloud computing services via the G-Cloud 13 platform which was updated in November 2022. The platform has a series of framework agreements with cloud service providers and is designed to make procurement easier for government agencies.
The MoU will see CCS customers befitting from HPE's 'environmental and sustainability services' which include a free sustainability assessment for its first 100 customers which helps them to create a sustainability strategy. This will include analyzing CCS's energy efficiency, data center optimization, and potential IT transformation considerations.
"With the revisions to the government's 2050 net-zero emissions strategy the pressure on the UK public sector is increasing to deploy sustainable solutions while balancing their IT needs and cost between legacy technology and the government's cloud strategy," said Andrew Young, vice president of UK & Ireland Sales, HPE.
"At HPE we are delighted that with the new MoU, we can support public sector organizations on their journey to the cloud with highly efficient solutions designed with sustainability in mind and an Edge-to-cloud platform that allows them to closely monitor their consumption."
HPE GreenLake will also provide CSS with high-performance computing capabilities to enable public services to explore artificial intelligence applications.
The CCS previously signed a £250 million ($286m) contract with colocation provider Crown Hosting, claiming that it was the only supplier in the market to provide colocation premises product types that could meet the security requirements. The HPE GreenLake servers will likely be hosted in this facility.
Earlier this year another department, the UK Department for Environment, Food, and Rural Affairs, signed a $25 million deal with Amazon Web Services. Signed in March of this year, the deal will see AWS providing the department with cloud hosting, support, and other services.