The UK government has pushed on with its plan to remove Huawei's 5G kit from the UK's networks by the end of 2027, after issuing legal notices to 35 UK operators.
In a statement today, the government reinforced its stance that all Huawei technology must be removed from the UK's 5G public networks by the end of 2027, with legal documents handed to broadband and mobile operators today.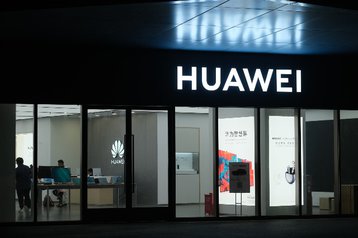 In effect, the document which is called a "designated vendor direction" puts the government's previous position to remove Huawei kit from UK 5G networks on a legal footing.
The government has moved to ban Huawei as a provider of 5G, due to guidance from the National Cyber Security Centre (NCSC), following crippling US sanctions on the vendor which saw the company refused access to US-made semiconductors.
UK operators have until December 2027 to remove all Huawei kit from their networks, while there is an immediate ban on the installation of new Huawei equipment within British 5G networks.
However, the UK government has given operators an extra year before they have to get Huawei equipment out of their network core, by extending the deadline for operators to remove such equipment and services to December 31, 2023. This deadline was initially set to be January 28, 2023, but has been extended following consultation with Huawei and telecoms operators.
"We must have confidence in the security of our phone and internet networks which underpin so much about our economy and everyday lives," said Digital Secretary Michelle Donelan.
"Thanks to this government's tough new laws we can drive up the security of telecoms infrastructure and control the use of high-risk equipment. Today I'm using these powers and making it a legal requirement for Huawei to be removed from 5G networks by 2027."
Backtrack
The UK government had initially planned to use Huawei kit, albeit at a market share cap of 35 percent, even amid the US restrictions, with then Prime Minister Boris Johnson giving Huawei a role in the build-out of the UK's 5G networks in January 2020.
However, the UK government back-tracked on this months later, amid pressure from Conservative backbenchers and the US Administration, which was then led by President Donald Trump.
The NCSC said at the time that Huawei posed a national security threat to the UK.
Huawei's UK spokesperson at the time Ed Brewster called the ban "bad news for every in the UK" in response, claiming the situation to be "politicized".
"Regrettably our future in the UK has become politicized, this is about US trade policy and not security. Over the past 20 years, Huawei has focused on building a better-connected UK. As a responsible business, we will continue to support our customers as we have always done," said Brewster, in July 2020.
Other countries including Australia, Canada, and New Zealand have moved to ban Huawei from playing a role in 5G rollouts.