The UC Santa Barbara Institute for Energy Efficiency will research how to improved data centers with a $1.5m grant from Facebook.
The newly formed Facebook Data Center Energy Efficiency Lab will study different approaches to efficiency, including low-power optical interconnects for computer networks and machine learning with a reduced carbon footprint.
For more breaking data center news, features, and opinions, be sure to subscribe to DCD's newsletter
As Moore's Law slows, Facebook looks elsewhere for efficiency improvements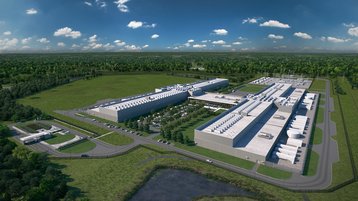 Social media and advertising giant Facebook will also provide some input of its own, sharing unspecified data and lessons from running its own data centers.
"Facebook is a world leader in data center efficiency, and we are happy to partner with them to further deliver the next generation of technologies to deliver efficiency gains," said IEE Director John Bowers, a distinguished professor of materials and electrical and computer engineering.
"They will provide us with the problems that need to be addressed, and we will work together to solve them."
The Lab will develop new hardware and architecture to improve both efficiencies and reduce the power needed for cooling. Algorithmic efficiency advances are also expected to reduce the power required to run artificial intelligence applications.
The UCSB Institute has a long history of researching silicon photonics "which is enabling higher capacity electronics through co-packaging of electronics and photonics," Bowers said. "This research is essential to develop the next generation of high-capacity switching chips and becomes even more important for future generations of electronics."
Rachel Peterson, Facebook's VP of data center strategy, added: "For more than 10 years, Facebook has been focused on designing, building and operating some of the most efficient data center facilities in the world. We are thrilled that our research team will partner with UCSB's Institute for Energy Efficiency to help drive innovation.
"We look forward to working together to bring energy efficiency to the next level."