Two subsea cables have been cut off the coast of west Africa.
MyBroadband reports the West African Cable System (WACS) and the South Atlantic 3 (SAT-3/WASC) undersea cables have been broken.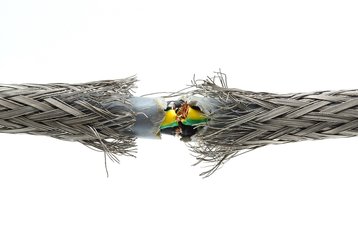 The two cables reportedly suffered breaks between the Democratic Republic of Congo and Cameroon due to two separate rock falls in the Congo Canyon on Sunday.
The cable ship CS Léon Thévenin has been mobilized for the deep-water repair, but could take several weeks to arrive at the break site as it is currently sailing from Kenya on the east coast of Africa and will have to sail around the Horn of Africa.
Telkom's wholesale fixed-line division Openserve has confirmed the issue but hasn't provided an estimated repair date.
"Openserve can confirm the breaks of the WACS and SAT-3 undersea cables. We are collaborating with the consortium partners to facilitate the restoration of these cables. The impact on our network is limited to customers on the international private leased circuits (IPLC) services," the company said.
"The Openserve network remains robust due to our investment in other international cable capacity, hence all Openserve IP Transit services (WebReach) traffic have been automatically re-routed, ensuring our customers stay seamlessly connected."
SA's state-owned wholesale infrastructure provider Broadband Infraco confirmed the cable break in a now-deleted post on X [previously Twitter].
Cameroonian telco CamTel also noted the issue; however, it said the SAT-3 cable suffered damages off the coast of Gabon and on the land section of Abidjan on the Ivory Coast.
Telecom Namibia also reported issues due to the cuts. Stanley Shanapinda, Telecom Namibia's CEO, said: "Telecom Namibia would like to assure its customers that it is working around the clock with its international support partners to ensure that all functionalities are fully restored to normalcy. We have been proactive by re-routing the traffic to ensure our customers stay seamlessly connected."
Update: David Eurin, CEO of Liquid Dataport, a business of Liquid Intelligent Technologies, said: "As part of our disaster recovery process and to offer high redundancy to our customers, we have migrated our customers' West Coast traffic to our new Equiano subsea cable. Whilst this additional capacity has brought in a much-needed increase in bandwidth in Western and Southern Africa, the redundancy is also the reason why we are able to minimize the impact on our customers."
Congo Canyon is a submarine canyon found at the end of the Congo River in Africa. It is one of the largest submarine canyons in the world, reaching depths of 1,100 meters and widths of up to nine miles (14km).
Laid in 2012, the 14,500 km WACS cable runs from South Africa to the UK, calling at 12 countries en route. Owned by a consortium of 12 carriers including MTN and Vodacom, it has a total design capacity of 14.5 Tbps.
The 13000km SAT-3/WASC cable, laid in 2001, connects South Africa to Spain and Portugal and lands at eight other countries en route. SAT-3 has a capacity of 340 Gbps and is owned by a consortium of operators including Orange (then France Telecom), AT&T-owned TCI, Sonatel, and Telcom.
The two cables previously broke off the coast of Gabon in 2020.