Social media and advertising company Twitter plans to shift more of its workloads to Amazon Web Services.
The company will use AWS to support its real-time service, the first time it has hosted the core of its product on a cloud platform. The company previously used AWS for storage, compute, database, and content delivery services to support images, videos, and ad content, but ran its main feed from wholesale data centers.
If AWS has an outage where will we go to complain?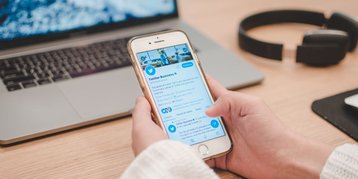 Twitter will continue to operate its own data center footprint, includes large leases at a RagingWire (now NTT) facility in Sacramento, and at a QTS Realty data center in Atlanta. But the company plans to work with AWS to build an architecture that spans on-prem and cloud hosting.
With its cloud-based workloads, Twitter plans to use AWS Graviton2-based instances, which uses Amazon's custom Arm processor. Twitter will continue to use Amazon CloudFront for CDN services, and Amazon DynamoDB for its database needs. The company signed an agreement with Google Cloud back in 2018 to handle cold storage, but it is not clear whether that contract is ongoing.
"We are excited to work with AWS to expand the infrastructure Twitter uses to serve the public conversation as we grow globally," said Parag Agrawal, Twitter CTO.
"The collaboration with AWS will improve performance for people who use Twitter by enabling us to serve Tweets from data centers closer to our customers at the same time as we leverage the Arm-based architecture of AWS Graviton2 instances. In addition to helping us scale our infrastructure, this work with AWS enables us to ship features faster as we apply AWS's diverse and growing portfolio of services."
Matt Garman, VP of sales and marketing at AWS, added: "Twitter's decision to rely on AWS infrastructure and services for its real-time workloads will help them instantly scale their global footprint up and down without ever compromising the experience for people who use Twitter.
"By using AWS container services to create a seamless hybrid on-premises and cloud environment, Twitter can innovate and deliver new experiences quickly and cost-effectively."
A favorite outlet of the current US President, Twitter has more than 330 million monthly active users and is the 46th most visited website in the world.