Data center operators in Turkey are ignoring warnings and building facilities in regions with a high risk of earthquakes and flooding, suggests a report by Unisonius – a data center consultancy with a focus on emerging markets.
The authors are especially concerned with the area around Istanbul – an attractive location in terms of customers and connectivity, but one which is likely to be hit by a major earthquake before 2030.
The report accuses data center owners of risking business continuity for short term financial gain.
Not if, but when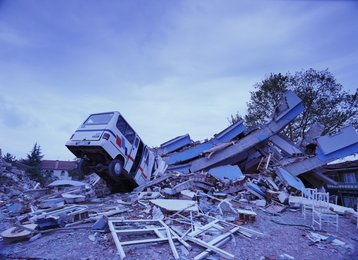 Turkey has always served as a gateway between Europe and Middle East. In recent years, this strategic position has resulted in a surge of investment in IT, with Western companies establishing beachheads in the country before they assault new markets.
If Turkey is admitted to the European community, it would become the fastest growing economy in the EU and the government believes it could attract as much as US$1 trillion of inward investment.
But there's a fly in the ointment: Istanbul is situated near the North Anatolian Fault, close to the boundary between the African and Eurasian Plates. This fault zone, one of the most active in the world, has been responsible for several deadly earthquakes throughout the city's history.
For example in 1999, an earthquake with its epicenter in the nearby town of İzmit left 18,000 people dead, including 1,000 people in the capital's suburbs.
A widely quoted study published in Science Magazine estimated there's a more than 60 percent chance Istanbul will experience a 7.6-magnitude or greater earthquake by 2030.
According to the Turkish Colocation report released on Monday, many existing data centers around Istanbul will be unable to withstand serious seismic activity.
Unisonius says surprisingly few data centres are planning for failover operations in the event of an earthquake, and most are not aware of the less connected, but more seismically stable regions in Turkey.
"Everyone wants to move to Istanbul, because that's where the financial centers will be. It's also where most of the IT professionals are likely to be concentrated. And there will be skills shortages, so companies will face a challenge to find staff. They could be tempted to take a risk and set up a data center in Istanbul, but it's right on the fault line," explained Ufuk Gucveren, analyst with Unisonius.
"If that's not bad enough, many of the data centers we visited haven't done enough to protect themselves against the eventualities of collapsing building and quake induced flooding.
"If you're going to settle for Istanbul, you need to know exactly what the problems will be, how to protect yourself and what your contingency plans are going to be."
Data centers in other parts of the world have been criticised for locating in earthquake zones, including a proposed Tier IV site in Bangladesh.  Meanwhile, equipment vendors, seeing an opportunity, are offering quake-resistant kit, including Caterpillar gensets and Chatsworth cabinets.