The largest data center in Turkey has been opened by Turkcell, with the telecoms company also announcing further plans to open two more facilities in the country.
The site near Istanbul, in Gebze, will turn the capital city into a regional hub of data as well as act as a node for international data traffic, delivering cloud services to global IT businesses in addition to Turkish public and private sectors.
The 33,000 sq m facility's white space consists of 20 rooms of 500 sq m each. It has a Tier III design certificate as well as a Leed Gold sustainability and energy efficiency certificate, and can withstand earthquakes of magnitudes of up to 9.0 on the Richter scale.
Turkcell hopes for the center to attract companies such as Google and Facebook into buying up capacity, thus supporting the development of Asia's digital Silk Road that notionally runs from southern Europe to east Asia.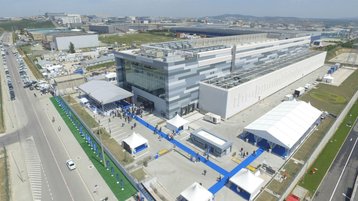 State-of-the-art
"With our technology leadership in Turkey and international collaborations, we will establish a new Silk Road of information on fiber, and contribute to raising the profile of our country as a regional hub of information," Kaan Terzioglu, chief executive officer of Turkcell, said.
China has been particularly enthusiastic in backing the trans-continental initiative, with the Cyberspace Administration of China regulator having encouraged cooperation between Europe and China.
Talks were held in May 2016 between EU and Chinese officials discussing mutual work on 5G and the Internet of Things.
Turkcell also announced plans to open two new data centers in the next 18 months, in Ankara and Izmir, to take the company's total data center area to 107,000 sq m, up from its current 52,000 sq m.
"As the global landscape of industrial production shifts to an ICT-focused mode with Industry 4.0, storing data safely and securely, and attaining the ability to analyze it becomes essential," Terzioglu said.
"With this new data center, we are providing the infrastructure for Turkey-based companies to benefit from these capabilities using the state-of-the-art technology at the highest global standards."
Meanwhile, the DCD Turkey event will return to Istanbul on 6 December, focusing on enterprise class data centers and cloud transformation in the region.
Among the subjects to be discussed is Turkcell's recent investment in 4.5G technology and Istanbul's position as a key strategic digital bridge between Europe, the Middle East and Asia.
Click here to apply for DCD Turkey