A $400 million wind farm in North Carolina paid for by Amazon is now operational, despite the efforts of local politicians who asked President Trump to close it down as a national security risk. 
Amazon Wind Farm US East is now operational, providing something like 60MW, but its launch was opposed by ten North Carolina legislators including state House Speaker Tim Moore and Senate leader Phil Berger, both Republicans, who urged the Trump administration to shut the project down because it might interfere with a nearby long-distance surveillance radar installation operated by the US Navy. The Pentagon ruled the two installations could coexist, after project builder Avangrid Renewables worked with military scientists, to realign the site's 104 wind turbines.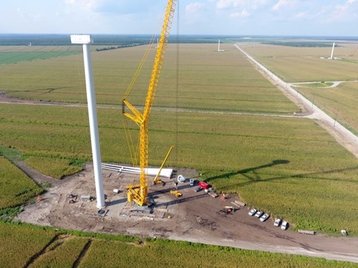 Off the radar
"It appears the initial concerns raised by the military are being addressed," conceded Moore after a visit to the site in late January, according to an AP report. "I agree with the Navy that further research is critical to ensure this project does not create conflicts with our critical military operations on the coast."
North Carolina's first large wind farm is paid for by Amazon, which is using a power purchase agreement under which its expected output would offset energy used by Amazon's East Coast data centers.
The farm occupies 22,000 acres, and produces enough power for 61,000 homes, according to Avangrid, but it was accused of potentially interfering with a Navy radar base in Chesapeake, Virginia which scans the Atlantic for ships and planes.
Despite Moore's statement AP reports that Republican politicians have not formally ended their opposition to the project. Previously they claimed that the Pentagon had dropped opposition to the project because of the "political correctness" of Barack Obama's administration. 
Avangrid is a subsidiary of Spain-based Iberdola, and President Trump has tweeted opposition to wind turbines on many occasions, saying they pose a threat to wildlife. 
The military angle may have been a pretext. AP reports that Bob Steinburg, a Republican legislator who supports the wind farm, says the protest was designed to protect local fossil-fuel with backers including billionaires Charles and David Koch: "Looking at some of the names on the letter, I know for a fact that with many it's ideological," said Steinburg. "These are hard-core, fossil fuel, 'let's keep doing it the way we've been doing it' sort of folks." 
A blog at Amazon Web Services celebrates the opening of Amazon Wind Farm US East, and other renewable projects, without going into detail about the opposition.
Since late 2016, Amazon has also opened Amazon Solar Farm US East, built by Community Energy in in Accomack County, Virginia, which will generate approximately 170,000 MWh of solar power each year. Another five solar farms are under construction in Virginia, and expected to go online in 2017.
Also opened in late 2016 was Amazon Wind Farm US Central, a 100MW farm built by EDP Renewables in Paulding County, Ohio, which will generate approximately 320,000 MWh of wind energy annually. During 2017 Amazon Wind Farm US Central 2 will launch, also in Ohio.
All this contributes towards Amazon's eventual goal of using 100 percent renewable energy (or at least paying for an equivalent amount of renewables to be generated), said Nat Sahlstrom, director of AWS energy strategy: "At the close of 2016 we announced that AWS had exceeded 40 percent renewable energy and set a new goal to achieve 50 percent by the end of 2017 in a continued march toward our long-term commitment of achieving 100 percent renewable energy usage for our global infrastructure footprint."
And local farmers and others are pleased. "Almost everyone in the community knows someone who worked on the wind farm, sold or rented something that helped build the wind farm, or owns land where the project was built," said Cecil Perry, chairman of the Pasquotank County Board of Commissioners. "These jobs, and this nearly $400 million investment in a rural part of North Carolina, are welcome — everyone in the county will benefit from the long-term property tax payments."
Horace Pritchard, one of nearly 60 landowners associated with the project, said: "Farms have been growing corn, soybeans, and wheat for a long time here, and the wind farm revenue means a lot of families are protected from pricing swings, floods or droughts going forward. We're just adding another locally-grown crop to our fields, with very little ground taken out of production, and the improved roads really help with access, so it's a great fit here."