US President Donald Trump has blocked Broadcom's attempted $117 billion hostile takeover of rival chipmaker Qualcomm after a US panel said it could pose a national security risk.
The Committee on Foreign Investment in the United States (CFIUS), which regulates foreign investment, said that it was investigating "the risks associated with Broadcom's relationships with third party foreign entities," and the "national security effects of Broadcom's business intentions with respect to Qualcomm."
In particular, CFIUS was concerned that Broadcom's history of cutting R&D spend at businesses it acquired, and the fact that it would finance the deal with over $100bn in debt, would mean R&D spent at Qualcomm would drop.
The inter-agency body claimed that a decrease in R&D would specifically hit 5G, a field led by Qualcomm and Huawei. It said: "given well-known US national security concerns about Huawei and other Chinese telecommunications companies, a shift to Chinese dominance in 5G would have substantial negative national security consequences for the United States."
It's over now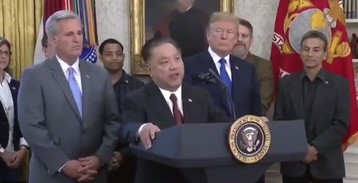 "The proposed takeover of Qualcomm by the Purchaser is prohibited, and any substantially equivalent merger, acquisition, or takeover, whether effected directly or indirectly, is also prohibited," an executive order signed by President Trump states.
"There is credible evidence that leads me to believe that Broadcom Limited… through exercising control of Qualcomm Incorporated (Qualcomm), a Delaware corporation, might take action that threatens to impair the national security of the United States."
Treasury Secretary Steven Mnuchin, who chairs CFIUS, said: "This decision is based on the facts and national security sensitivities related to this particular transaction only and is not intended to make any other statement about Broadcom or its employees, including its thousands of hard working and highly skilled US employees." 
Broadcom said in a statement: "Broadcom strongly disagrees that its proposed acquisition of Qualcomm raises any national security concerns." It had previously promised to invest in 5G R&D should the deal go ahead.
Qualcomm said that under the terms of the president's action, "all of Broadcom's director nominees are also disqualified from standing for election as directors of Qualcomm."
On Sunday, CFIUS sent a letter to lawyers at Broadcom and Qualcomm claiming that  had repeatedly violated an order to inform the panel five days ahead of any action on its plan to redomicile from Singapore to the US.
CFIUS also said that its investigation of the bid "so far" confirmed the national security risks it had previously raised.
Before this ban, a US President has only blocked deals on the recommendation of CFIUS four times. Last year, Trump prohibited the $1.3bn purchase of Lattice Semiconductor Corporation by Canyon Bridge Capital Partner. Again, security concerns were given, with CFIUS claiming Canyon had ties to the Chinese state.
In 2016, President Barack Obama blocked a Chinese-owned business from acquiring a stake in Aixtron, a German semiconductor company with operations in California.
It now appears that Broadcom will have to cut its losses and has few, if any, avenues to pursing Qualcomm. Its options are "not many, and not good," Michael Gershberg, an attorney with Fried, Frank, Harris, Shriver & Jacobson LLP, who has experience with CFIUS cases, told The Wall Street Journal.
"There may be avenues for the companies to work together in other kinds of arrangements, but anything that looks like Broadcom controls Qualcomm, especially around the 5G business, CFIUS will be alert to."
The end of the attempted acquisition also puts a stop to Intel's secret potential plan to acquire Broadcom if it looked like the company would buy Qualcomm.
The move to block the acquisition, which came before any deal was signed, has raised concerns among some business leaders. 
Frank Aquila, a mergers and acquisitions lawyer at Sullivan & Cromwell, told The Financial Times: "The fact that the president took pre-emptive action before a deal was even signed is extremely disturbing and inconsistent with all of our notions of due process.
"It will also make it more difficult for American companies to cry foul when they are blocked in other countries for political reasons. ‎This action does not bode well for robust cross border M&A activity in a number of sectors."