Leading IT analyst firm InsightaaS teams with the Province of Ontario to deliver a ground-breaking Canadian SMB Cloud Summit in Toronto on December 13th with an executive workshop day, prior to DCD>Connected Canada 4.0.
Surveys show a wide cloud adoption-rate disparity between Canada and the US, with 80 percent of US small businesses already in the cloud today versus a roughly 50 percent adoption rate among Canadian small businesses. And, while cloud adoption by midmarket businesses is effectively universal, it's less common for Canadian midmarket firms to use cloud to build new enterprise-wide capabilities.
"Research shows that Canada's SMBs first deploy cloud in isolated instances, as responses to specific pain-points within their organizations," says Michael O'Neil, principal analyst with InsightaaS and co-chair of the Connected Canada 4.0 conference.
"But there's a tipping point at which cloud stops being a pain-solving cost and becomes a business-driving investment instead, a point at which various individual systems are brought together to create an agile digital infrastructure that supports profitable growth."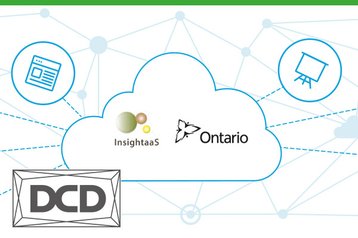 The Cloud Summit's agenda reflects the input of over 40 Canadian cloud thought leaders and parallels the curriculum used in the University of Toronto's continuing studies course Cloud Systems in Practice.
The intent is to walk SMB business executives and IT professionals through key steps in establishing cloud as a powerful, cost-effective business asset. All sessions are designed to be highly participatory and interactive with plenty of Q&A and networking time built in.
"DCD is proud to host InsightaaS and the government of the Ontario in presenting Canadian SMB Cloud Summit as part of our DCD>Connected Canada 4.0 event proceedings," says DCD's conference chair, Bruce Taylor.
"We're committed to delivering executive education and insight with our live media events around the world, and we believe that providing Canadian businesses with a pre-event Cloud Summit, coupled with the rich digital infrastructure transformation program for Connected Canada 4.0, will help develop the next generation of technology-enabled business leaders."
There is no fee for qualified individuals from end-user organizations to participate in the peer-to-peer SMB Cloud Summit or DCD>Connected Canada 4.0 – please click here to register.
Canada's digital transformation
DCD>Connected Canada 4.0 kicks off on December 14 with plenary keynote thought-leader roundtable with senior-most executives from Canada's technology leaders, including Amazon Web Services country manager, Eric Gales; Equinix' managing director, Andrew Eppich; Google Cloud country manager, Jim Lambe, with others to be named.