The White House has enlisted the help of corporations including Google, IBM, Amazon, Microsoft, Oracle and SAP to rethink how the federal government uses technology.
On a private call with the tech giants, senior advisers to the president, including son-in-law Jared Kushner, said that the US government would be forming small "centers of excellence" - teams aiming to reduce regulation, get federal agencies to embrace cloud computing, and open more data up for private-sector use.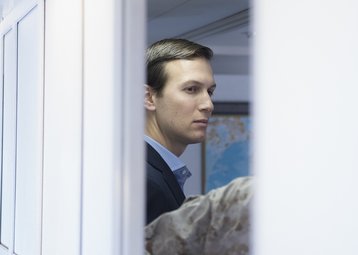 Challenges and opportunities
Recode reports four sources with knowledge of the call, which included Kushner and his aides within the Office of American Innovation contemplating recruiting leading tech engineers to take part in short "tours of duty" advising the government on some of its digital challenges.
Representatives from Apple, Google, IBM, Amazon, Microsoft, Intel, Mastercard, MIT, Oracle, Qualcomm and SAP were believed to be involved in the call.
As DCD previously covered in detail, many of those companies have extensively lobbied the government on the troubled data center consolidation initiative, as well as on government cloud computing contracts in general.
The call with Kusher, who is tasked with modernizing the federal government, comes weeks after President Trump met with senior technology leaders for 'Tech Week.'
"Our goal is to lead a sweeping transformation of the federal government's technology that will deliver dramatically better services to the citizens [and] stronger protection from cyberattacks," Trump said in opening remarks during the event in late June.
But while the companies are eager to encourage the government to shift to the cloud and embrace technology, many tech firms - particularly those in Silicon Valley - have clashed with the current administration on issues including immigration and climate change.
This month saw the Trump administration unveil its latest plan to curb immigration, endorsing the Reforming American Immigration for a Strong Economy Act (RAISE Act), a Senate bill introduced by two Republican senators earlier in the year. It aims to cut immigration by 50 percent over a decade.
The Washington, D.C.-based trade association, The Information Technology Industry Council, which represents companies including Google, IBM, Apple, Intel, Microsoft and Schneider Electric, came out against RAISE.
"Access to talent is a challenge for the tech industry because not only can we not find enough STEM-skilled Americans to fill open roles, our broken system stops us from keeping the best and brightest innovators here in the U.S. and instead we lose out to our overseas competitors," the council's president and CEO, Dean Garfield, said.
"This is not the right proposal to fix our immigration system because it does not address the challenges tech companies face, injects more bureaucratic dysfunction, and removes employers as the best judge of the employee merits they need to succeed and grow the US economy."
Linda Moore, the president and CEO of TechNet, a group representing employees from companies including Airbnb, Lyft, General Motors and PayPal, concurred: "At this very moment, half a million jobs in the US that require computer science training are unfilled. That's indicative of the investments we need to make in STEM education as well as the need for high-skilled immigration reform that allows American companies to fill these critical labor shortages immediately.
"The RAISE Act solves neither of these problems and instead cuts green cards by half at a time when the demand for more high-skilled worker green cards and H-1B visas is holding back job creation in the tech industry."
Immigration reform may not be the only issue of concern to some in Silicon Valley - The Information reports that White House Chief Strategist Steve Bannon has suggested that companies like Google and Facebook should be regulated like utilities. As they are essential to modern day life, he is thought to have argued, they should be regulated as such.