The University of Waterloo has launched the largest supercomputer at any Canadian university with CAD$17 million (USD$12m) in funding from the Canada Foundation for Innovation (CFI) and the Government of Ontario.
Named Graham, after former university professor J. Wesley Graham, the supercomputer packs more than 50 petabytes of storage, 1,000 nodes and more than 33,000 CPU cores. It has 2.6 petaflops of peak theoretical computational performance.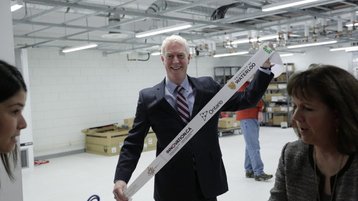 Academic consolidation
"Research and innovation have helped define the University of Waterloo, and will remain important priorities for our future," Feridun Hamdullahpur, president and vice-chancellor of Waterloo, said.
"Graham allows us to increase our capacity to be a global leader in advanced computing. Thanks to the support of both the federal and provincial governments, CFI, Compute Canada and Compute Ontario we will be even closer to realizing this vision."
Mark Dietrich, president and CEO of Compute Canada, said: "Research today is increasingly data intensive. For the community of over 11,000 Canadian researchers that we serve today, Graham will give Canadian researchers and innovators the ability to compete and excel globally using big data and big compute tools."
Graham is the latest product from a CAN$75m ($55m) initiative involving the CFI to build four supercomputers and data centers. The Tech Renewal scheme aims to move academics from 27 data centers with 200,000 cores across Canada to the four main sites, with 300,000 cores and 12 petaflops of computing power.
The first to open was at the University of Victoria in September 2016, a Lenovo-built HPC system called Arbutus that features 6,944 CPU cores across 248 nodes. Then, last month, Simon Fraser University (SFU) opened Cedar - at the time Canada's most powerful academic supercomputer - in a new data center at SFU's Burnaby Campus.
Later this year will see Niagara, from the University of Toronto. It is expected to have some 66,000 CPU cores.