Thaicom has selected European airspace company Airbus to deliver an Asia-focused spacecraft in 2027.
The Thai satellite company confirmed that Airbus will build its new generation software-defined high throughput satellite at 119.5 Degrees East.
Terms of the contract were not disclosed by either company.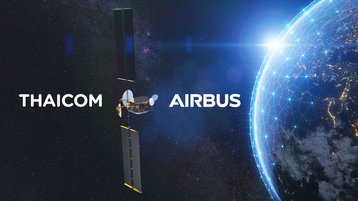 The partnership was announced earlier this week after Thaicom subsidiary, Space Tech Innovation Limited (STI), signed a contract with Airbus Space Systems to design and manufacture its new satellite, plus to provide ground control segment components.
It comes after Eutelsat and Thaicom announced plans last month to jointly fund a new software-defined satellite in orbit above Asia.
At the time, Eutelsat said it had committed to lease and operate the service for half of the capacity on the new satellite during its 16-year expected lifetime.
Thaicom added that Airbus will provide one of its latest designed satellites, a fully reconfigurable OneSat which is capable of adjusting the coverage area, capacity, and frequency to respond to future challenges by enabling the adoption of new technologies while the satellite is in orbit.
According to the company, the satellite will provide extended connectivity in Ku-band over the Asia-Pacific region for Thaicom's customers and partners across the Asia Pacific.  
"Airbus will design and manufacture the satellite and provide ground control segment components," said Jean-Marc Nasr, head of Airbus Space Systems.
"Airbus plans to deliver Thaicom's new satellite in 2027. This collaboration with Thaicom is a first, and we look forward to further building our relationship in the future."
Thaicom currently has two satellites after it was forced by the Thai government to surrender ownership of two additional satellites when the 30-year concession agreement expired in 2021.