American cloud and colocation provider Telx has completed the expansion of two historic data centers in Lower Manhattan, New York, sometimes referred to as the 'Urban Giants'.
The NYC1 site at 60 Hudson Street got 40,000 square feet of additional space, while the NYC3 located at 32 Avenue of the Americas was expanded by 50,000 square feet. The latter has already secured an unnamed global telecommunications company as the anchor tenant.
Both buildings have a long history of hosting critical telecommunications infrastructure, going as far back as the heyday of the telegraph.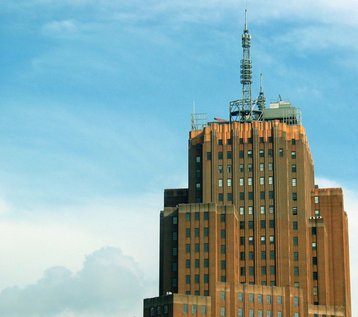 The two towers
Telx is a privately held company founded in 2000 that runs 20 data centers across the US, six of them in the NYC metropolitan area.
The building which hosts NYC1 was constructed in the 1930s by Western Union as the site for the company's headquarters. Among other things, it serves as a 'carrier hotel' offering one of the densest connectivity environments on the planet.
NYC3 occupies multiple floors inside the impressive Art Deco tower built by AT&T and designed by the same architectural firm as the first site - Voorhees, Gmelin and Walker.
The expansion of NYC1 not only provides new data center space, but also new office space and an executive meeting center. Meanwhile NYC3 has added a whole extra floor, bringing Telx's footprint within the building to over 120,000 square feet.
"Expansions in NYC1 and NYC3 allow us to increase our connectivity-dense colocation capacity while securing and accelerating additional footprint in North America's most strategic data center market," said Chris Downie, CEO at Telx.
"Combining these expansions with our NYC2 facilities at 111 8th Avenue and our three New Jersey facilities across the river, Telx offers the largest critically enabled data center solution in the New York City metropolitan area."
Telx had already expanded NYC3 by 70,000 square feet in 2014. In total, the company now manages 1.3 million square feet of data center estate and more than 50,000 network connections.
One of the original founders of Telx, Hunter Newby, has recently launched a joint data center venture with Amerimar Enterprises. Dubbed 'Netrality Properties', the firm already owns four data centers, including one in New York, and is currently looking at new sites in Houston.