Telstra has expanded its satellite ground stations in Perth and Merredin, Western Australia.
Telstra said this week that it has added a 9-meter antenna to the two sites in order to support the new I-6 F1 satellite from Inmarsat.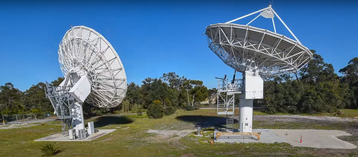 Launched from the JAXA Tanegashima Space Centre in Japan in December 2021, I-6 F1 is the first of two Inmarsat-6 (I-6) satellites designed to enhance both the narrowband ELERA network and Global Xpress broadband service for Inmarsat customers.
Matt Williams, Managing Director, Telstra EMEA said, "Inmarsat's I-6 F1 and the new ground station have really moved the global 'space race' along and entrenched Australia's position as a front runner in satellite communications. We delight in putting our skills, experience, and access to global sites to use for ambitious global operators like Inmarsat, as they continue to revolutionize communications. This is just the tip of the iceberg of Telstra's global projects underway."
Jason Smith, Chief Operations Officer at Inmarsat said, "The launch of I-6 F1 marks a further significant step in our visionary and fully funded technology roadmap, which will see the launch of a further six satellites by 2024 and a ground network expansion like no other. This all forms part of our revolutionary new ORCHESTRA network of networks, anticipating and meeting global customer demand for the long term. The ground stations in Western Australia are a crucial part of our ambition to transform and enhance connectivity services and solutions for our mobility, government, and Internet of Things customers worldwide."
SSC ground stations go solar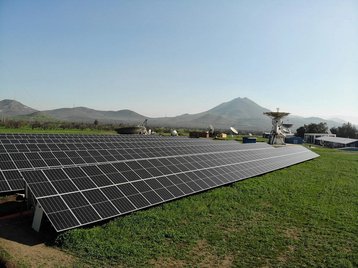 In Latin America, Swedish Space Corporation (SSC) has installed a solar panel park at its satellite station facility in Santiago, Chile.
The 624 solar panels will have a total output of 350kWh with a production of approximately 660Mwh annually. Storage options with lithium batteries will also be added in the coming months, as well as a smaller backup powered by fossil fuels that can be used if needed.
SCC said it plans other solar parks at ground station sites globally. The company aims to reduce its energy consumption by 30 percent by 2025 and completely eliminate carbon dioxide emissions from operations by 2040.
"This is a long-term investment. We estimate that this measure alone cuts SSC's annual carbon dioxide emissions from heat and electricity purchases by eight percent, which is equivalent to the emissions from our planned rocket launches from Esrange. And financially, we expect to recover the costs within seven to eight years after commissioning, while becoming less sensitive to volatile energy prices," said Sonia Castellanos, SSC Global Manager Ground Systems Infrastructure.
In Africa, Africa. Space reports the Chinese government plans to construct a satellite digital-receiving ground station in Namibia on the outskirts of Windhoek