Telekomunikasi Indonesia International Pte Ltd (Telin Singapore) last Friday had its groundbreaking ceremony for its new five-storey data center and telecommunications hub located at the Singapore Data Centre Park (DCP) in Jurong. To be constructed on an 8,000 sq m plot of land, the new building will have a gross floor area of 20,000 sq m.
The groundbreaking was jointly officiated by Rini M. Soemarno, Minister of State Owned Enterprises of Indonesia and Minister Lee Yi Shyan, Senior Minister of State for Trade and Industry and National Development of Singapore.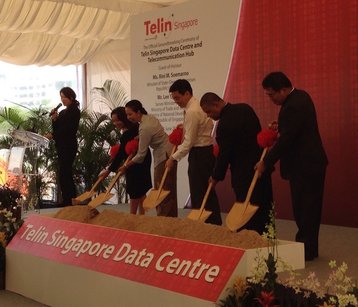 When completed, Telin-3 will be the third data center by Telin Singapore, which is a wholly owned subsidiary of PT Telekomunikasi Indonesia International (Telin). Telin is in turn fully owned by Indonesia's largest telecommunications group PT Telekomunikasi Indonesia, Tbk (Telkom Group). The two existing data centers in Singapore are located in Changi, and a private area within Global Switch's data center at Tai Seng, respectively.
As we reported late last year, Telin Singapore was awarded the first plot of land at the DCP, which is an ambitious project in the western part of Singapore for the building of six to eight data centers with a projected rackable space of up to 105,00 sq m.
According to Telin Singapore, Telin-3 will address the growing demand for premium data center services in Singapore, and to support Singapore's Smart Nation vision. Moreover, the company also hopes that the new facility will help it play a pivotal role in providing reliable and secured connectivity services both in the region and to global markets.
The new data center will be multi-tiered
Telin-3 will be completed by the third quarter of 2016, and a company representative had earlier briefed Datacenter Dynamics that it will be designed and built to meet at least Uptime Institute's Tier 3 and Tier 4 availability and reliability standards. Importantly, the new data center will incorporate a multi-tier design with the flexibility to meet the desired operational requirements of customers.
"Telin Singapore Data Center and Telecommunication Hub will strengthen Telkom Group's strategic initiatives for international expansion," said Alex J. Sinaga, group CEO of PT Telkom Indonesia in a statement. "Our investment in Telin-3 will solidify Telin Singapore's position as a strategic hub for Telkom Group to connect Indonesia to the rest of the world."
"Telin-3 is our second partnership with EDB, IDA and JTC after our first facility in Changi," said Septika Noegraheni Widyasrini, CEO of Telin Singapore. "Telkom Group has invested heavily in the last few years to build and to acquire strategic assets and now we will house our existing and future infrastructure at Telin-3 upon completion."