Telin Singapore's Telin-3 data center, due to open in Saptember 2016, has been awarded the Uptime Institute Tier IV Certification of Design. The company has told DCD it plans to get the completed building Tier IV certified when it is operational.
Located at the Singapore Data Centre Park in the western part of the island, Telin-3 is Telin Singapore's third and largest data center there. The five-story facility is envisioned as a data center and telecommunications hub, and will have a gross floor area of 20,000 sq m (215,000 sq ft) when completed.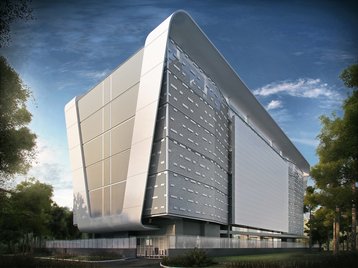 Multi-tier design
Unlike most other data centers in the region, Telin-3 incorporates a multi-tier design to meet differing operational requirements within the same building. Freddi Huang, head of network engineering and operations at Telin Singapore told us last year that this will allow it to deliver what customers want at a competitive rate.
Telin-3 is currently the only data center in Singapore with a Tier IV Certificate of Design. According to information available from Uptime Institute's website, the Certificate of Design is for the fifth floor of Telin-3; the remaining data center halls located on levels two, three and four will adhere to the much more common Tier III standard.
Tier IV builds on top of Tier III with the added requirement of fault tolerance through the entire data center infrastructure stack. This inevitably drives cost up very significantly, and leads to the question of whether there is adequate demand for such high levels of reliability.
"There will constantly be demand for such high level of reliability, especially for mission critical data for government and enterprise clients. They require data centers that host their data to comply with stringent risks, safety and data security guidelines," said Huang to DCD.
"We are committed to continue delivering data center solutions with redundant infrastructure to meet the stringent SLA across all industry verticals," he said. Huang also confirmed that Telin-3 is scheduled to be operational in September 2016.