Norwegian telco Telenor is selling its satellite unit to Space Norway.
State-majority-owned Telenor has agreed the sale of subsidiary Telenor Satellite to the state-owned company for NOK 2.36 billion ($217.1m). The deal is expected to close in January 2024.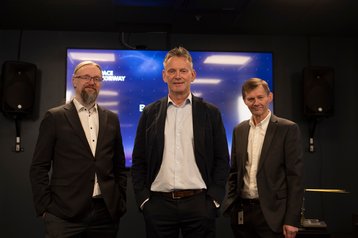 Telenor Satellite owns and operates the Thor 5, 6, and 7 satellites, as well as two payloads aboard Spot 1 and Spot 2 named Thor 10-02 S1 and S2, all providing coverage across the northern hemisphere.
"For more than 20 years, we have served our customers with premium, high-quality broadcasting and data services via satellite. Now the time has come for a new era for Telenor Satellite," said Dan Ouchterlony, EVP and Head of Telenor Amp, which manages Telenor's portfolio of companies. "With Space Norway, Telenor Satellite will have an industrial owner who has the right competence and who will prioritize the required financial resources to realize the company's potential."
Telenor and Space Norway have signed a letter of intent outlining a strategic partnership that could include additional satellite capacity and satellite consulting services.
Dag H. Stølan, CEO of Space Norway, added: "Satellite-based capabilities are more important than ever. The combination of Space Norway's partly governmental customers and Telenor Satellite's commercial customer base will give the new company a strong platform to grow the business in both sectors. We are very excited to enter into this agreement and look forward to contributing to the long-term development of Telenor Satellite".
Space Norway is a public limited company owned by the Norwegian Ministry of Trade and Industry (NFD). The company manages space infrastructure for the country, providing services to wholesale customers.
Space Norway manages four micro LEO satellites for AIS signaling for the Norwegian Coastal Administration; the Svalbard subsea fiber cable, and provides broadband to the Troll station via satellite from Telenor's Thor 7 satellite. The company also owns 50 percent of ground station operator KSAT alongside Kongsberg Defence and Space.
Norwegian Minister of Trade and Industry, Jan Christian Vestre said the government will propose to the Parliament that Space Norway be provided with capital to finance the acquisition of Telenor Satellite.
"The acquisition will contribute to the establishment of a major Norwegian satellite operator, which, together with a growing Norwegian space industry, can strengthen Norway as a space nation," he said. "At the same time, the acquisition ensures that Norway, in a time of increasing geopolitical unrest, maintains control over satellites crucial for critical societal functions and strategically important for the country."
Thor 5 was launched in 2008 and is equipped with 24 Ku-band transponders. Thor 6 launched in 2009 and features 36 Ku-band transponders Thir 7 launched in 2015 and features both Ka and Ku-band transponders. Thor 10-02 was launched in 2004 and Telenor Satellite owns seven Ku-band transponders on Spot 1 and Spot 2.
The company has operated its main teleport outside Oslo in Nittedal since 1985. The company also has a presence at the Makarios Teleport in Cyprus.
In other satellite news:
- AST SpaceMobile plans to launch its first five commercial satellites in Q1 2024, but will need to raise $600 million for the next 20 satellites. Negotiations with multiple strategic investors are ongoing, according to the company.
- Astranis announced plans for a second micro-GEO satellite over the Philippines. The company already had plans to launch a dedicated satellite in 2024 with local telco Orbits Corp. The company is now planning to launch an additional satellite – known as Agila – with Orbits Corp in Q1 2024.
- ViaSat and Skylo have launched a global direct-to-device network. The companies said the network will allow Mobile Network Operators (MNOs), device makers, and chipset manufacturers to take 3GPP Release 17 compliant products that connect to Viasat's network.
The new network will use Viasat's global L-band capabilities as well as partner satellite operator networks. Initial deployments are planned for early 2024 in North America, using the Ligado SkyTerra satellite network, followed by a global rollout.
- Lockheed Martin has said it will payload to orbit next year to demonstrate 5G connectivity from space. The company conducted a field trial of its 5G.MIL last month using a simulated satellite orbital pass.
- OneWeb has signed an "exclusive, multi-million-dollar" distribution partnership with Taiwanese telco Chunghwa Telecom to bring LEO satellite services to Taiwan.
- Ambassador Cruise Line is to deploy Starlink terminals on its two cruise ships, Ambition and Ambience, and launch the service by the end of the year. The company previously conducted a trial on the Ambition earlier this year.
- BT and HAPS developer Stratospheric Platforms (SPL) will be trialing airborne 5G connectivity from a Britten-Norman Islander plane. Flight trials from the BN2T-4S are due to begin in July 2024.
- Intelsat and Africa Mobile Networks plan to deploy more than 1,340 rural base stations across Madagascar, Rwanda, and DRC. The companies have deployed more than 3,000 rural base satellite antennas across several countries in Africa since 2018.