Telekom Malaysia (TM) is building a $38 million data center in the Iskandar Malaysia development corridor in Johor. 
TM has signed an agreement to buy land in the Nusajaya Tech Park in Iskandar, and build both a data center and office space there. The RM137.9m (US$37.9m deal between TM and Nusajaya Tech Park Sdn Bhd (NTPSB) has been reported in Malaysia's edition of The Edge.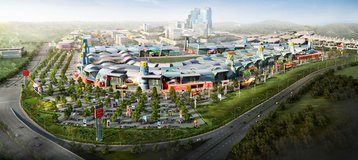 Purpose built center
The Nusajaya Data Centre (NJDC) at the tech park will be built by NTPSB, and operated by VADS Berhad, a wholly owned subsidiary of TM, which already operates more than ten data centers within Malaysia.
The NJDC will be built in three phases, with phase one expected to be ready in the second half of 2016.
Though the specific size of the NJDC is not mentioned, the press release states that it will be TM's largest purpose-built data center. It will also serve as an international gateway – the fourth such data center from VADS – and will serve as a regional hub for VADS Cloud and as a base for its managed data center services.
As we reported in Malaysia - creating a new data center market last year, the bustling development that is Iskandar Malaysia is generating new levels of interest for data center developers in the Malaysia state of Johor.
In this case, the 210-hectare (519 acres) Nusajaya Tech Park is located near to the Malaysia-Singapore Second Link expressway, which puts it in an especially strategic location for the purpose of courting businesses from Singapore.
"The collaboration is a synergistic one that aligns with our vision to create a landmark tech park development in Nusajaya," said Manohar Khiatani, president and group chief executive officer of Ascendas, as well as the chairman of NTPSB, "We are confident that Nusajaya Tech Park will continue to play a central role in catalyzing industrial growth and creating an ecosystem of high value-added industries in Nusajaya and Iskandar Malaysia."