Telecom Egypt has struck an agreement with Grid Telecom to build a submarine cable system that will link Egypt with Greece.
The cable is set to connect from Port Said in Egypt to Crete island, Greece.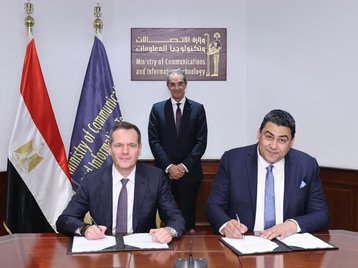 According to Telecom Egypt, the cable will be the shortest, lowest-latency Mediterranean path between Egypt and Europe.
In a press release, Telecom Egypt notes that the cable will extend northwards to the Balkans region, plus adjacent destinations in Central and Western Europe, and southwards to the Arabian Peninsula and other regions in Africa and Asia.
The unveiling of the new cable system, which remains unnamed for now and doesn't appear to be on TeleGeography's submarine cable map, was held in Cairo.
During the signing ceremony held in the Egyptian capital, Telecom Egypt managing director and CEO Adel Hamed, and the Chairman and CEO of IPTO, Manos Manousakis, signed an agreement to kick-start the cable system.
The announcement of the new cable system comes after a strategic Memorandum of Understanding was signed between the two parties earlier this year.
Greek-based Grid Telecom is a wholly-owned subsidiary of the Independent Power Transmission Operator (IPTO) that was founded in January 2019 and provides wholesale services to national and international providers.
Grid's fiber optic terrestrial and subsea network exceeds 4,000km and is set to increase to beyond 6,000km in the coming years as it connects Greek islands with the core network.
The Minister of Communications and Information Technology of Egypt, Dr. Amr Talaat, who witnessed the signing agreement, said: "This significant agreement, which intends to create a new subsea system connecting Egypt and Greece across the Mediterranean Sea, strengthens Egypt's strategic capacity in the realm of international subsea cables by opening a new landing site in eastern Europe on the Greek coast.
"It also provides a strategic advantage, particularly given that more than 90 percent of the data flow between East and West passes via Egyptian territorial waters and lands."