A bunch of large telecoms firms have joined the Open Compute Project, which has set up a new Telco Project to concentrate on data center needs specific to the telecoms sector.
Despite recent announcements that suggest telcos are selling their data centers large players are evidently still concerned to get data center kit that meets their needs. So telcos including AT&T and Verizon of the US have joined the Open Compute Project, founded by Facebook in 2011 to create and share open source designs for data center hardware and software. Other newcomers include Singapore's SK Telecom, Germany's Deutsche Telekom and EE, the British mobile operator which BT announced plans to buy earlier this month. 
Welcoming these arrivals, OCP has set up a project with the task of communicating telco technical requirements to the OCP's community of hardware builders, and feeding innovations from OCP back to the telcom community. The announcement suggests that telcos might go to white label manufacturers instead of the likes of Cisco to get equipment for their edge networks.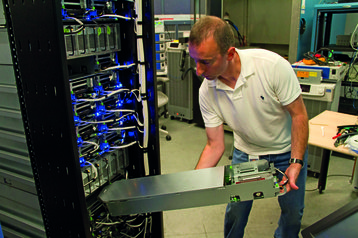 Bringing OCP to the telcos
"We are optimistic about the potential of open hardware to bring large-scale gains to the telecommunications industry," said Jason Taylor, president and chairman of the OCP board and also VP of infrastructure at Facebook, "and that starts with increased participation."
In a blog post, Taylor listed the aims of the Telco Project as "communicating telco technical requirements effectively to the OCP community, strengthening the OCP ecosystem to address the deployment and operational needs of telcos; and bringing OCP innovations to telco data center infrastructure for increased cost-savings and agility."
AT&T has been reported as planning to sell off $2 billion worth of data centers, and Verizon is likewise exploring the possibility of selling $2.5 billion, but these are retail spaces, where the telcos offer outsourcing and colocation to customers, not their internal facilities. 
In the OCP announcement, it's clear the telcos are looking to buy smarter kit for the facilities they run for their own internal needs, which include edge data centers and equipment placed in "central offices" or telephone exchanges. "We're moving to a software-centric network—our central offices will look more like datacenters," said Andre Fuetsch, senior vice president of architecture and design at AT&T, in a posting. "The physical locations where we run our network services increasingly look like what you'd find at a web company."
AT&T plans to virtualize 75 percent of its network functions by 2020, and needs applications running on commodity to do that:  "We need to be able to scale quickly as network demand grows," said Fuetsch. "We also want to rapidly deploy new capabilities our developers are building, such as Network on Demand. The only way to meet those goals is with flexible software running on standard hardware. Releasing those hardware specs through OCP makes it easier for startups and other innovators to get involved in this space."
Last year, AT&T launched an open source initiative called Central Office Re-architected as a Datacenter (CORD), with ON Lab, that aims to replace custom hardware with software running on standard servers. Now the CORD specifications can be released through OCP so hardware vendors can respond. 
Deutsche Telekom's CTO Bruno Jacobfeuerborn said something similar: "With the cloudification of our network functions and the related change in our production models, the telco industry is going through a massive transformation. Efficiency in our data centers becomes critical for success - we fully support the open industry approach within OCP.".
EE plans to use commodity hardware in its mobile networks, said Mansoor Hanif, Director of Radio Access Networks at EE: "For the last 18 months we've been developing our ambitious plans in this space, working behind the scenes to drive real disruption in the industry, and this is a major part of that disruptive work." 
Dr. Alex Choi, CTO of SK Telecom echoed that SK wanted to use OCP methods in its implementation of 5G mobile networks, and network provider Nokia Networks committed to OCP in its offerings. "We're already working extensively with OCP designs and best practices and will be announcing some significant  additions to our AirFrame data center solution portfolio," said Henri Tervonen, vice president of mobile broadband architecture at Nokia Networks.