Submarine communications specialist TE SubCom is set to deploy a 14,000km cable system to link Japan, the US and the Philippines.
The JUPITER project will rely on 400Gbps WDM transmission technology, delivering initial design capacity of 60Tbps.
The project is funded by a consortium which includes NTT Com, SoftBank, Facebook, Amazon, PLDT and PCCW Global.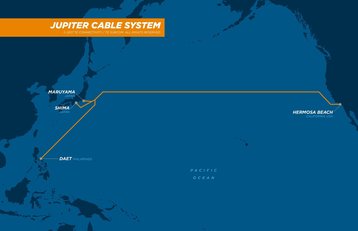 Across the waves

By 2020, JUPITER will connect Shima, near Osaka, and Maruyama, near Tokyo, with Los Angeles in the US and Daet in the Philippines.
The system will also interconnect with existing Asia Submarine-cable Express (ASE), Asia Pacific Gateway (APG) and Pacific Crossing-1 (PC-1) cables to provide a redundant three-route structure between major cities in Asia and the US.
"JUPITER will provide the necessary diversity of connections and the highest capacity available to meet the needs of the evolving marketplace," said Koji Ishii of SoftBank, co-chairperson of JUPITER consortium.
"TE SubCom has a proven record of success in the design and implementation of innovative, scalable and robust transoceanic cable systems, making the company the most reliable choice for the JUPITER supply partner."
JUPITER will use submersible ROADM (reconfigurable optical add-drop multiplexer) with WSS (wavelength selective switch) technology to enable the system to add or drop wavelengths from a transport fiber without having to convert the signals on all channels.
"TE SubCom has been deploying progressively more advanced optical add/drop multiplexing technology in various undersea applications since 2009," said Mark Enright, VP for Customer Solutions at TE SubCom.
"The ROADM nodes in the JUPITER design are our most advanced form of this technology to date, providing unprecedented bandwidth reconfiguration flexibility in an undersea network."