Nevada-based data center provider Switch has revealed more details of the giant complex it has planned in Reno, which could ultimately be the world's largest data center. 
The Reno SuperNAP has a potential size of seven million square feet, and the first stage will be twice as large as Switch's biggest data center in its Las Vegas site. With a $1 billion initial investment, the site could grow to absorb $3bn.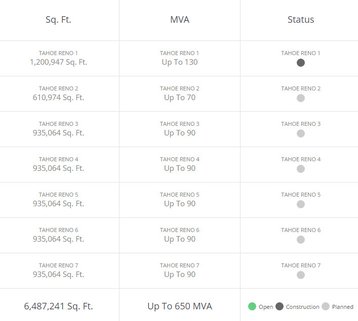 Biggest ever?
The new facility might persuade Reno, to change its city slogan from "Biggest little city in the world" to "Home of the biggest industrial complexes in the world" as Switch's SuperNAP, will be across the street from a huge Apple data center campus and next to the location where Tesla is building its million square foot plus battery manufacturing center.
Well before it hits the ultimate target of seven million sq ft (650,000 sq m), the first stage of the Reno SuperNAP project will be impressive. At 1.2 million sq ft (111000 sq m) Switch claims this will be the largest data center yet built at more than double the size of the largest building at their existing Las Vegas data center campus.
The claim of being the largest data center in the world is based on Switch's own internal research, as data centers not in the colo space tend not to discuss too many details of their facility. 
With a 300 MVA substation and 80,000 tons of onsite cooling, the facility should be ready to meet the demands of any colocation tenant, the first of which will be eBay, who Switch says will be "taking up the entire back end of the building." The first stage is expected to be commissioned in 2016.
While there are technology benefits to the huge amount of building that Switch plans on doing, such as connections to its SuperLoop high-speed networking infrastructure with its 7 ms latency to areas such as Los Angeles, the bigger benefits to the local area might well be Switch's investment in education and the local community. The University of Nevada, Reno's Innevation Center is now "powered by Switch", which has invested in the collaborative workspace environment in the hopes that it will continue to drive technological innovation in the region, much like their similar project in Las Vegas. Switch sees this as in vestment in the community and the region that will pay dividends in the form of a better equipped local workforce for future projects.