American cloud and colocation provider Switch has licensed its patented hot-aisle containment and cooling technology to Schneider Electric.
The deal to share the technology known as Switch T-SCIFs and Switch TSCs comes as the company has suggested it will be more active in pursuing lawsuits and partnerships around its 350 issued and pending patent claims.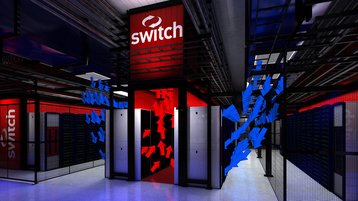 Sweider
"We are excited to conclude this important license, clearing the way for us to incorporate Switch's innovative hot aisle containment and cooling technologies which will complement Schneider's product offerings and efficiencies," Chris Hanley, SVP of data center systems for Schneider Electric said.
"This announcement further strengthens our long and growing relationship and provides another opportunity for data center clients to benefit from the combined innovation from Switch and Schneider Electric."
Switch began licensing some of its patents to other companies last year, including to Berkshire Hathaway's electric utility, NV Energy (which it separately sued over a renewable energy dispute).
Samuel Castor, EVP of policy for Switch, said: "The industry continues to recognize the benefits of Switch's technology to reduce data center carbon footprints and improve server deployment densities and efficiencies. Switch's Policy team licenses Switch technology to those best situated to help lay the foundation for the internet of everything, like Schneider Electric, and we will vigorously defend against unauthorized use.
"We are honored to offer Schneider Electric a license to these patents and we are pleased that Schneider finds Switch's patents unique and valuable."
Last month, Castor called out those the company viewed as stealing its designs: "Today many companies copy these designs in their data centers, and while Switch is flattered, we are also ramping up our IP legal team to address those that are infringing on our patents."