Switch has confirmed it is the company planning to put a data center on the site of the iconic pyramid building in West Michigan, originally built by furniture maker Steelcase, but the proposal still faces a couple of hurdles. 
The potential $5 billion dollar investment would place two data centers on the campus surrounding the pyramid shaped office building, rather than in the building itself, as Switch has its own data center architecture and builds new data centers rather than repurposing old ones. However, the company wants new tax laws to make the project attractive, and another prospective buyer is fighting in the courts to buy the site.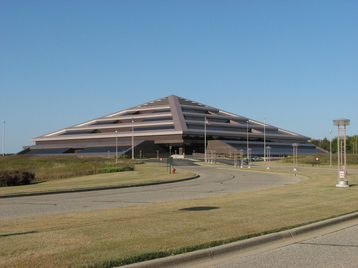 Jobs for a tax break
The carrot that Switch is offering is not just the monetary investment but also 1000 jobs over the ten years that the full build-out would encompass. Before it commits to the project, Steelcase wants changes in Michigan tax law to make the site attractive enough for the investment. To get the project moving forward, legislators in the Michigan House have introduced three bills that address Switch's demand. The bills ask for sales tax, property tax, and use tax exemptions for the project.
Legislators are expecting the House to take up the bills after the Thanksgiving holiday break in order to respond to Switch's request that the issues be resolved by the end of the year so that construction can start in early 2016.
A hitch in the project remains a lawsuit filed by Education Company Investors, which hoped to make the site into an education hub, and claims that Steelcase had agreed to sell the property to them before backing out to sell the property to the development company that is courting Switch.
The case is based on ongoing email negotiations that had not been settled, according to Steelcase, prior to the property sale. But ECI believes it had a deal in place.