Enterprise Linux vendor SUSE and mainframe software specialist Veristorm have joined forces to enable Hadoop analytics on IBM z Systems mainframes.
The offer combines a custom version of SUSE Linux Enterprise Server tailored for z Systems and Veristorm zDoop - the very first commercially supported Hadoop distribution for 'big iron'.
There's also a dedicated version of SUSE Linux, Veristorm Data Hub and vStorm Enterprise Hadoop for IBM Power Systems machines, which are based on the proprietary POWER8 Reduced Instruction Set Computing (RISC) architecture.
The two companies will also collaborate on channel strategy and partner education.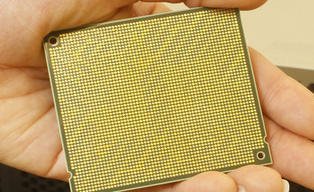 Big Data for Big Iron
"Existing solutions often struggle to handle the [analytics] processing load, which in turn leads to more servers and difficult-to-manage sprawl," said Naji Almahmoud, head of global business development for SUSE. "This partnership with Veristorm allows enterprises to efficiently analyze their mainframe data using Hadoop."
Under the terms of the partnership, Veristorm will host a Hadoop repository for IBM z Systems, which will be made available on SUSE Linux Enterprise Server through its YaST and Zypper frameworks.
Veristorm has also created Data Hub and Enterprise Hadoop editions specifically for Power 12 family of servers, based on POWER8 CPUs and running in little-endian mode.
"Whether customers are leveraging big data to segment customers, optimize operations, or make better decisions in IT and other groups, this partnership will help them maximize their processing ability and leverage their richest data sources," said Sanjay Mazumder, CEO of Veristorm.
"Access to transaction and application log data for processing on SUSE Linux Enterprise Server on z Systems, Power Systems or x86 will help customers deploy successful, pragmatic projects."