SuperNAP International has opened its Bangkok 1 data center in the eastern province of Chonburi, Thailand.
The company is a partnership between US data center operator Switch and the ACDC fund, which consists of Orascom TMT Investments and Accelero Capital, and builds its facilities based on designs developed by Switch.
Switching continents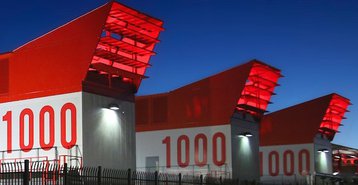 Once fully built out, the Bangkok 1 data center is expected to offer 21,000 square meters (226,042 sq ft) of data center space across two data halls, and 20 megawatts of power distributed through diverse 115 kilovolt transmission paths, supporting up to 40 kilowatts of power per cabinet.
Located 110 meters above sea level and outside of flood zones, the facility was designed to achieve a target PUE range of 1.35-1.45.
Construction at the Hemaraj Industrial Estate began in early 2016, with the company planning to open the data center in Q1 2017, a target it appears to have missed.
"We welcome clients throughout ASEAN, APAC and the rest of the world to run their mission-critical IT infrastructure in what we expect will be one of the most secure, reliable and connected data centers in the world," Sunita Bottse, managing director of SuperNAP Thailand, said.
"Our high standards in uptime, security, efficiency and resiliency can be critical for corporations who operate 24 hours a day in every business line – including finance, e-commerce, oil and gas, transportation and health care."
Late last year, SuperNAP International opened its first data center, the $314m SuperNAP Italia facility in Milan.
The international openings come as Switch itself is planning an IPO, has started to license designs to Schneider Electric, begun selling prefabricated data centers, and continues to push its own self-certified Tier 5 standard.