American hardware manufacturer Supermicro has launched a server that manages to pack up to 72 Intel Xeon E5-2600 v3 cores into a single rack unit.
The 1U TwinPro SuperSever consists of two hot-swappable compute nodes, each supporting two CPUs and up to a Terabyte of RAM. The layout has been made possible thanks to the compact, hot-swappable 'Power Stick' modules each rated at up to 1000W.
The server was designed for tasks that require high density and resilience, for example managing high availability storage or hosting a security appliance.
Good things in small packages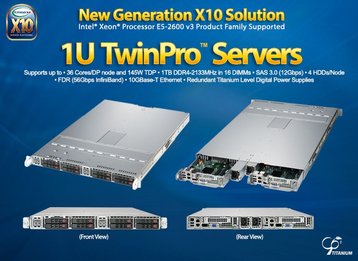 The 1U TwinPro SuperSever is an early example of the 'X10 generation' hardware from Supermicro. It marks the first time the company has taken its TwinPro range - designed as two dual CPU nodes - into 1U territory.
Each node supports dual Intel Xeon E5-2600 v3 processors with up to 145W Thermal Design Point (TDP) at 35 degrees Celsius. Last year, such system would not be able to comfortably support an 18-core chip, but the recent launch of Xeon E5-4669 v3 - available with up to 18 cores and a lower TDP of 135W - has enabled OEMs to produce 72-core, 1U servers with considerable muscle.
Each TwinPro SuperServer node also features four hot-swappable 2.5=inch drive bays (12Gb/s SAS3 option), up to 1TB of DDR4 RAM across 16 slots, 1x PCI-E 3.0 and a variety of connectivity options including 100GbE. The system is powered by redundant Titanium Level efficiency (96%+) Power Sticks that can be replaced while the server is live.
"Supermicro's new 1U hot-swap dual DP node TwinPro is exactly the best solution for customers that need high compute density with full redundancy for high availability applications," said Charles Liang, president and CEO of Supermicro.
"The 1U TwinPro series will drive new opportunities for our customers that look for best performance, density and high availability in a 1U form factor."
Earlier this year, Supermicro announced it would start building pre-configured server racks for Tectonic – a platform for Linux application containers which combines the CoreOS stack and Kubernetes container management system.